Wednesday - November 16, 2011

Movies Showtimes
Share

Jan Fried
Professor and coordinator
for the American Sign Language/Interpretation Education Program at KCC
Where and with whom did you see the movie?
I saw it at Ward Theatres, and I went with my favorite movie date, my husband John Woodward.
Overall, what did you think?
We definitely laughed quite a bit. In fact, we laughed throughout the whole thing. There were certain scenes that were very, very funny, and there were other scenes that didn't make sense as to why they were in the film. They didn't fit the story line in any way, but there were others that were just a scream.
On a scale of one to four stars, what would you rate this film?
Probably ★★ 1/2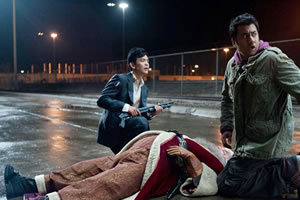 What did you think of the cinematography?
Actually, it was great. We thought the movie was well shot, lots of wide angle shots that worked. What truly made the movie, though, was the 3D. The 3D rocked in the film and it certainly enhanced the cinematography. Some movies in 3D movies work and some don't, but in this movie it definitely worked in 3D. I don't know if it would have without the 3D. In the smoking scenes, the smoke comes out into the audience, it's pretty hilarious.
Who would you recommend this movie to?
We definitely thought it was funny. It's perfect for anyone wanting mindless entertainment. Not a movie for everyone because of the drug and sex references and the language. But the movie itself was a riot. Kids under 18 should absolutely not be allowed to see this film.
Did any of the actors/actresses stand out?
We both really loved John Cho and Kal Penn, they were terrific. I'm a Harold fan, myself. Neil Patrick Harris is fabulous as always. There's also Mr. Perez, Harold's father-in-law, who is terrific. He's a well-known Latino character actor. Loved Waffelbot, too!
Did the soundtrack contribute significantly to the film?
It did. The Christmas songs were placed perfectly. "Let It Snow" will have a different meaning for you after you see the movie.
What's your favorite movie snack?
Junior Mints. It's such a favorite movie snack that we used the little Halloween-sized Junior Mints as favors at our wedding.
Will you buy this movie when it comes out on DVD?
Eh, no.
Probably not. If you've seen it once, you've seen it. I probably wouldn't get it, too, because it really needs the 3D effect.
What's new with you?
Dec. 8 at Pearlridge Center Uptown is our "Yes Virginia, There Is a Deaf Santa Claus." This is our 20th year at Pearlridge Center, and we're very excited. It is an opportunity for deaf kids around the state to meet a Deaf Santa, with whom they can communicately directly in American Sign Language.
You know how any kid who hears can go up to Santa and tell him their wishes, we replace that Santa with a Deaf Santa. The kids from the neighbor islands can talk to Santa via videophone, that way they can see Santa and Santa can see them.
The kids get a chance to ride on the train that Pearlridge has, watch performances in ASL and we provide a pizza lunch for them. We have lots and lots of partners that make this happen, and this year the whole event will be streamed live.
Most Recent Comment(s):