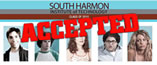 Wednesday - August 30, 2006
By
.(JavaScript must be enabled to view this email address)

Movies Showtimes
Share

Accepted
Movie Review with Big Teeze
Radio Personality on Island Rhythms 98.5
As Told To Melissa Moniz
Where and with whom did you see the movie?
I went to the Regal Theatres by myself. (laughs) I no more friends.
Overall what did you think of the movie?
Oh, was good. Awesome. Was real good. I liked it.
What was the best part of the movie?
Get choke, brah.
Was just funny across the board. I guess his pals, who all got rejected, that was my favorite part.And how they were talking and all made their own school. Yeah, that was cool.
What was the funniest scene?
When his friend was dressed as the hot dog. His fat friend, was so funny, but he's a genius though. Had so many funny parts. The funniest thing though is the acronym, 'cause it's the South Harmon Institute of Technology. So they are called the S.H.I.T. heads. It's funny. Definitely something you should see with your friends - 18 and over, of course.
Who was your favorite character?
It would be the main character, Gaines.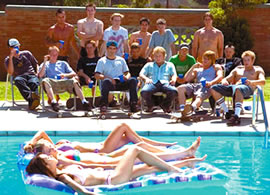 What is the message of the movie?
Just no worry. A lot of people get rejected. This whole thing is about being rejected for their whole life. It's a real good movie. A good movie.
What was the plot or deeper meaning of the movie?
Just following your dreams and you can do anything you want. More like every student at his made-up college, all them was rejected and not accepted to any college, so they made up their own college. In actuality he made this college to fool his parents.Then people went on like and all that, and it was just click to be accepted, and after that they had like over 300 students. The funny thing about it was scrambling and making dorm rooms and stuff like that.
Is this the typically the kind of movie that you enjoy watching?
I prefer more drama. I like comedies, but I rarely watch this kind of movie. So when I checked this out it reminded me of back in the day. Like the old school.
Would you say this is one of the better movies that you've seen recently?
Yeah, very much. I would recommend it.
Was there anything bad about the movie that you didn't like?
Some of the acting skills. But there's a bunch of no-namers, too, though. But other than that, I would say it's a must-see. I was cracking up in there and it was just contagious.As soon as I was laughing other people was cracking up too. We was laughing because we was laughing.
Is it a movie that you would see again?
Yeah, definitely.
In a four star rating, with four being the highest, what would you rate it?
I would go with three stars.
Are you a big movie buff?
Yeah,big time.I go at least three times a month.Whatever is the latest stuff I'll go check it out.
What's your favorite movie snack?
Oh, that would have to be the musubi that I bring from home. (laughs) Nah nah nah nah. Gotta be the dollar hot dogs at Regal Cinemas. But gotta be at Regal Cinemas 'cause I cannot go the other places that only cost quarter or something like that because I tired of seeing Nerf footballs flying across the screen.
Do you have a favorite actor/actress?
My favorite actor right now has gotta be Mr. Robert De Niro. Favorite actress is Michelle Pfeiffer.
What's new?
Well right now I'm on the air on 98.5 from 3 to 7 p.m., Monday through Saturday.And then I just started a new company called Hallums Music Group, and it's an affiliate of Landmark Entertainment.It's a recording company. Right now I'm producing a new 98.5
compilation CD featuring artists like Crystal Akana, B.E.T., Hoonua.That's all original stuff that we put together.And also doing promotions. We're bringing Hoaikane back to the stage.

Next week: a new movie, a new celebrity
Most Recent Comment(s):