Wednesday - December 14, 2005
By
.(JavaScript must be enabled to view this email address)

Movies Showtimes
Share

Aeon Flux
Movie Review with Liz Chun
KGMB9 Sports Anchor
As Told To Katie Young
Where and with whom did you see the movie?
I convinced my co-worker Michel Cherry to catch the movie with me at the Ward Theaters. (Mike used to be a movie critic at UH.)
Overall what did you think?
Unless you desperately need to watch a science fiction film, this movie is not a "must see." The movie takes place 400 years from now. The human population is wiped out by a virus leaving only 5 million survivors. To protect the remaining population, a regime creates a controlled life in a walled city. Charlize Theron is the main character, Aeon Flux, a member of the rebel force.
What was your favorite scene?
Theron, as the heroine, has some super powers and interesting gadgets. My favorite scene is when she's being held captive in a cell. She switches her eye into a magnifying glass to check the water left for her. And to break free she calls for these balls she's left behind, and they roll to her rescue and blow open the wall.
Did you have a favorite character?
I would say Charlize Theron. I give her credit; she did most of her own stunts and even got injured during filming.
How would you rate the acting?
The acting was OK, but predictable.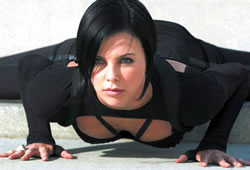 How were the special effects?
The effects were actually pretty cool. There wasn't anything that really stood out. But because the story takes place in the future, the push-of-a-button secret doors and costumes and stuff catch your eye. As for the effects of the fight scenes, really nothing special.
Did the movie have a meaning?
A perfect life is one that is lived naturally.
What was the best/worst aspect about the movie?
The worst thing about it was that it was a cross between the Matrix and Electra, and that's just a bad combination, period.
Is it a movie that you would see again?
No.
To whom would you recommend the film?
People who are committed fans of Charlize Theron and feel obligated to see her movies.
On a four star rating, with four being the highest what would you rate the movie?
One and 1/2 stars.
What's your favorite movie snack?
Popcorn and kaki-mochi.
What's your favorite movie?
Sadly, I can't pick just one. But I'm willing to admit that Pretty Woman ranks pretty high.
How often do you go to the movies?
Hardly ever; I get off work too late and sometimes have to work on the weekends.
Who's your favorite movie buddy?
My dad, but it's rare that I can get him to go with me.
What genre of movies do you like?
Comedies and dramas. Usually I like a movie that can make me laugh or keep me guessing.
Who's your favorite actor/actress?
My favorite actor is Morgan Freeman. My favorite actress is Julia Roberts.
What's new?
Whatever's on the sports calendar is what's going on with us. Local sports continues to get bigger and better, so there's more to keep track of these days.
I can't wait to do our year-end
Next week: a new movie, a new celebrity
Most Recent Comment(s):