Wednesday - March 17, 2010
By
.(JavaScript must be enabled to view this email address)

Movies Showtimes
Share

Louisa Te'i
"Dionne" in MVT's musical Hair
Where and with whom did you see the movie?
I saw it at Ward with other members of the cast and crew of Manoa Valley Theatre's Hair: Jaq Ryan Galliano, who plays Berger; Jason Loo, Kevin DeBell and Myles McGee, who are all part of The Tribe (ensemble); and several others. It was a big group.
Overall, what did you think?
I really enjoyed the movie. I thought visually it was just stunning. Then again, I'm a big fan of Tim Burton anyway.
On a scale of one to four stars, what would you rate this film?
I want to give it ★★★★ out of ★★★★, just because I think Burton did such a good job of telling the story.
How was the acting? Did anyone stand out?
I absolutely loved Johnny Depp (Mad Hatter) and Helena Bonham Carter (Red Queen), and the way that they worked together.
What about the visual effects? Were they impressive?
I think to really get the full gist of it you should see it in 3D as we did. It was shot specifically with 3D in mind from what I've read and really makes Wonderland stand out.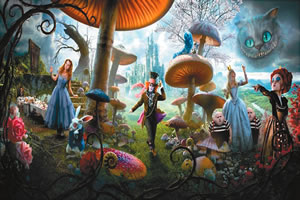 Without giving away the ending, what was one of your favorite scenes?
I loved all the scenes with Johnny Depp in them (laughs), but that's a hard one. Pretty much any time he was on screen I was into it!
Were you pleased with the variation from the original storyline?
I think that people might be disappointed if they expect to see the same story we've all seen over and over again, and I like that Burton put more of the sequel in this one. He still references the earlier story, but I like that it's from a different point of view in a later stage in Alice's life.It made it fresh again.
To whom would you recommend this film?
I am definitely going to go back and take my three kids, and though the monsters can be somewhat scary, I know mine will be fine and will love it.So I recommend it to everyone!
Would you buy it on DVD?
I definitely want to see it again,and when it comes out on DVD I want to buy it.
On a different note, what's new with you?
I'm currently playing Dionne in MVT's Hair, the revival production, Thursdays through Sundays, continuing until March 28. We're extending through April 4, and our first three weeks have been sold out. It's just such an honor to play this role in a production that has meant so much to so many people over the years, and we have an outstanding cast and crew that make it all possible each week.So support local theater and call MVT at 988-6131 for tickets today!
Most Recent Comment(s):