Wednesday - September 27, 2006
By
.(JavaScript must be enabled to view this email address)

Movies Showtimes
Share

All The King's Men
G Dehnert
DJ and Promoter
As Told To Melissa Moniz
Where and with whom did you see the movie?
I saw the movie at Dole, and I saw it with a couple friends of mine who were going to the premiere too - so I just met them there.
Overall what did you think of the movie?
I thought it was good. I thought it was really good.The acting was great and the cast was great. I thought it was really entertaining. It was a really good political film.
Did you have a favorite scene?
I think when Sean Penn's character started yelling,"Nail 'um up, nail 'um up." He was talking about the career politicians and the machines and everything like that.That's when he was campaigning, and people started to relate to him better. So that was one of his campaign slogans.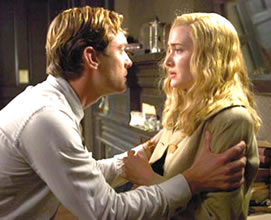 What was the deeper meaning of the movie?
I guess the deeper meaning was Sean Penn's character,the governor,has really good intentions for the people and everything, but not necessarily that absolute power corrupts, but in order for him to fight a corrupt system he kind of had to use some of their tactics as well. Which to me was the underlying theme.
Was this movie like any other movie that you've ever seen?
I don't think it was like anything I have seen before.
To what type of audience would you recommend the movie?
Definitely an educated crowd. Educated people interested in politics and people who are activists as well.
Do you think the movie gave a positive or negative spin on politics?
Definitely a negative spin.
Do you think it was accurate in terms of the political aspects that were covered?
Even though I think the screenplay was written recently, but the book was written I think like 50 years ago, it's interesting. I would guess it is pretty accurate in the trials and tribulations for someone wrapped up in politics. Starts off with good intentions, but after hanging out with the wolves you've got to become one yourself.
In a four star rating, with four being the highest, what would you rate it?
Four stars.
What's your favorite movie snack?
I really try not to eat the snacks they have there. I snuck in a yogurt and some carrots. I'm trying to eat healthy.
How often do you go to the movies?
I'll go in streaks. Sometimes I'll see a lot, then it will be a month or two that I don't see any. But I would say in a
month like two to three times.
What's your favorite movie?
Apocalypse Now or The Godfather.
What's new?
I'm just throwing events, parties, deejaying. That's pretty much what I do.
Next week: a new movie, a new celebrity
Most Recent Comment(s):