Wednesday - January 13, 2010
By
.(JavaScript must be enabled to view this email address)

Movies Showtimes
Share

Where and with whom did you see the movie?
I went to the Koko Marina theater with my wife Pua, my 9-year-old-daughter Kawehi and my 7-year-old-daughter Alohi.
Overall what did you think?
It was really good - such a cute movie.There was a great message and moral to the story: Never do a concert without a formal contract.
Watching the Chipmunks is kinda like Maunalua.There's the three of them and the three of us, so it's kind of a cool thing.In a nutshell,it's about these three chipmunks who really rely on each other and pull from each other.
So when they go to high school they are pulled apart.They realize that they need to be together.But at the same time everyone has a responsibility to learn, so I liked that.
Did your daughters enjoy it?
They thoroughly enjoyed it.First,we had the whole theater to ourselves,so they were so excited.But they loved the movie.They recognized all the songs—even the young Filipino singer Charise from the Oprah show. And the music was fun!
Those Chipmunks,they can play.I don't need the extra competition. Thank God they don't play slack key, 'cause they are good - they harmonize and hit all the notes.If they go falsetto, I'll be done.They are just amazing.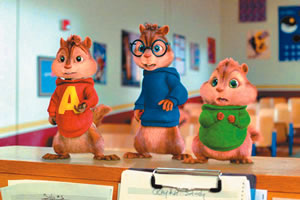 Did you recognize and enjoy the songs?
Oh, yeah.There were so many great songs, and a lot of them were oldies that my daughters think are new, like We Are Family. I was pleasantly surprised at how much I enjoyed the music.
Do you think it was an accurate depiction of the music industry?
It's definitely a playful approach to it. It's a very loose adaptation of what the business is all about.
How would you rate the film on a scale from one to four stars?
I'd give it ★★★.
Did you have a favorite character?
I love Alvin because I'm kind of the Alvin of our band.I kind of get in trouble a lot and they gotta keep me focused. Just the kolohe one.
Would you buy it on DVD?
I would. It's a good movie. It's a super family-friendly movie. Visually it's really cool too. These things look like they could just jump off the screen and run around the theater. They are just so cool. It makes me want to go out and find three baby mongooses and train them to sing. I'm going to talk to (bandmates) Kahi and Richard, and we'll all have one and kind of style them like each of us. Then they can tour the state and they'll lick those Chipmunks. Mongooses,you don't mess with them.And we would call them Mongooselua, because they're going to be a spinoff of Maunalua.
Did this movie remind you of any other film?
It was different in that there was no other movie that had singing chipmunks that I've seen.
On the serious note,I think it has a similar moral to the story that I've seen before. It had the young person who is kind of going awry, and they haven't found their way. In the end it gets really clear what really matters.If you don't have your family,friends and that foundation,then you're really lost.We need support from each other.And like these guys, we all need each other.
On a personal note, what's new with you?
Well,besides looking for our three mongooses,we're practicing and compiling all the new songs for the new album.We'll be in the studios soon, but we're still ongoing at Duke's.
Our Web site has all our upcoming listings: www.maunalua.com.
Most Recent Comment(s):