Wednesday - November 04, 2009
By
.(JavaScript must be enabled to view this email address)

Movies Showtimes
Share

Jennifer Mann
go! Mokulele Airlines Pilot
Where and with whom did you see the movie?
I saw it at Mililani Town Center and went by myself.
Overall, what did you think?
I thought it was fantastic. It's really reflective of the time period, and Hilary Swank embodies Amelia Earhart's speech, demeanor, dress, everything. I thought it was really down to the nitty-gritty of her life, having to decide between her love of flying and adventure and whatever she had to do to make that happen, like how she married her navigator. I think she did it more because she needed funding. I was just so entranced by Swank's performance.
Sounds like you have a favorite in this movie. So how was the acting?
Hilary Swank was just a great actress for this role.
Actually I'm reading I Was Amelia Earhart by Jane Mendelsohn now because the film got me really interested. I had it laying around for a while, but was never really inspired to read it until now.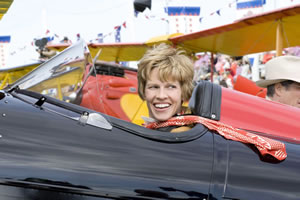 On a scale of one to four stars, what would you rate this movie?
Definitely ★★★★. The acting was superb; you really felt like there was this rawness and honesty to it that you don't get from a lot of films these days.
To whom would you recommend this film?
I think that it's a little easier for people in the airline industry to get this film because they can really identify with Amelia and the whole flying aspect of it all, especially pilots like me. Anybody who's wanted to do something so badly they'd do anything for it would be able to relate to the movie as well. I really want to just go see it again now!
What was your favorite aspect of the movie?
I guess just her. I mean, she's flying around the world, and just the way she looked so happy and content in the cockpit - it was her second skin.The freedom of it - no limits, no boundaries, only horizons - you just really get the feel for it.
Did Amelia remind you of any other work in film?
Nothing can compare.
How did the movie relate to your life as a female pilot?
Back then, women weren't considered capable of handling "man jobs" like that. Even now, a lot of passengers who come on the plane when I'm flying for go! will look into the cockpit and seem surprised to see a female pilot (or sometimes two) up there. They call us "chick pilots" or say "You go, girl!" or will want to take a picture if they're from a country where it's not common to see a female pilot.We're still kind of a minority.
Speaking of go! Mokulele, what's new?
Well, as you know we recently combined Mokulele Airlines and go! to create go! Mokulele Airlines, and we are just excited to create an even stronger carrier for Hawaii. We operate 60 flights per day and are working to keep our rates low and our passengers happy.
Most Recent Comment(s):