Wednesday - February 08, 2006
By
.(JavaScript must be enabled to view this email address)

Movies Showtimes
Share

Annapolis
Movie Review with Bob McDermott
Executive director, Navy League
As Told To Terri Hefner
Where and with whom did you see the movie?
Kapolei 16 Plex with my youngest son, Patrick, who's 16.
Overall,did you like the movie and why?
It was OK; it was a fair movie.
At the cost of $8 a person I would-n't recommend anyone going to see it.An Officer and a Gentleman, you're better off renting that on DVD and getting the same sort of message but in a much better package and much better presentation.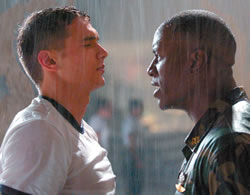 Are you familiar with Annapolis? Was the movie realistic?
I'm a former Marine Corps officer so I'm familiar with the Navy, and I'm familiar with the officers and how they conduct themselves. I had a roommate who was from Annapolis. I never went to Annapolis,but some of the things in the movie were not realistic. The plot was a little disjointed.I like to be positive,though; the acting performances were well done. But as I said, if you want to see a movie about Naval officers and romance and all that sort of thing,An Officer and a Gentleman is much more entertaining and a much better movie. Half the movie was about boxing, half about Annapolis, but it didn't really show any of the academic rigors that these students go through. If you've ever talked to anyone who's been to Annapolis,it's science, it's physics, calculus - that's just as demanding as the physical part, and that got very little air time.
The start of the movie ends up in a boxing match.That was the big plot driver, the brigade boxing matches,which I know they do have,but to me it seemed that short shrift was given to the normal life that these guys actually lead. This kid spent most of his time in the gym preparing for a boxing match which, in real life, those guys just don't have the time to do that. His love interest, one of the trainers, is one of the upper classmen who he sort of has a platonic relationship with.And she looks like a super model, which is highly unlikely. This might be politically incorrect, but you're highly unlikely to find a gal like that as a freshman in the Naval Academy.And the young fellow who started the league, he's supposed to be a freshman in the Naval Academy,he looks like he's about 30 years old.He had crow's feet.He looks older than me!
Did you have a favorite scene in the movie?
The boxing action was quite good - entertaining. I went into it with a very open mind; I wanted to like this movie.I'm a pro-military guy. I understand the Navy has directed their folks not to wear their uniforms when they go to see this movie. The Navy has not endorsed it- it was filmed in Philadelphia.So there's a little bit of controversy.And I can see why, because in the beginning of the movie when the recruits get there, at one point one of the drill instructors uses a racial slur directed at a fellow of Hispanic descent. But I can tell you, today, knowing what I know about the military,that would be the quickest way to get fired from your job. You can call somebody ugly, all sorts of names, but if you use an ethnic slur that's the fastest way to get court-martialed. You just don't do that.
To whom would you recommend this film?
I would recommend it to someone who's flying across the Pacific and has six hours to kill.
In a four star rating, with four being the highest, what would you rate it?
Two stars - a generous two stars . I like to be a positive guy so I'll give it two stars, but I wouldn't sit through it again.The good news is I got to spend some time with my son, who actually found it entertaining. He really liked it.
Maybe it's an age thing?
Maybe it is,because he liked the boxing action and to him, seeing a pretty girl as an instructor in the Naval Academy - I mean, not just a pretty girl,but a knockout,gorgeous runway model as one of the instructors - didn't strike him as unrealistic. One of the guys, who was a plebe, physically couldn't do any of the obstacles, a heavyset fellow. He would never get in, in real life.These kids are the best of the best,and this guy made me look like Adonis.
How often do you go to the movies?
Not very often. But that's an age thing, too. When you get older you don't want to deal with the cell phones. I probably only go to the movies about two times a year. But I do watch a lot of DVDs. When you go to the movies, they actually carry on conversations on cell phones during the movie.Why pay money to not have a good time? By the way, there were only about 12 people in the theater when I watched it.So that's word of mouth telling you something right there.
Do you have a favorite actor or actress?
Of all time? John Wayne, of course.
What's new with you?
I just enjoy working with the Navy League and helping our young sailors and servicemen in what little way we can.We recognize them with awards and whatnot.It's been a real blessing to go from politics, where it's a kind of taking profession - I don't mean to disparage anyone, but you take people's time, you take their money, you take their attention - to a profession where you're giving.It's very refreshing and recharging of the batteries.The overall thing, to try to be a giver instead of a taker, it opens a whole new world. Unbelievable. I wish I would have known it 20 years ago.
Next week: a new movie, a new celebrity
Most Recent Comment(s):