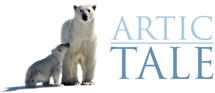 Wednesday - August 15, 2007
By
.(JavaScript must be enabled to view this email address)

Movies Showtimes
Share

Arctic Tale
Jeff Mikulina
Director of Sierra Club
As Told To Melissa Moniz
Overall what did you think of the movie?
It's a great film, really well done.There are images that you will not see anywhere else. They have 15 years of photography from the Arctic and it's just some spectacular,up-close and personal shots. It's amazing seeing what the life of these animals is like up there. It's a family film and definitely geared toward kids. I mean, you fall in love with the characters. If you have any affinity to furry critters you'll feel for the characters. But they don't sugarcoat it, I mean,this is life in the Arctic. They all have to eat and you see some of that, but the over-arching message is not just the relationship between these animals, but it's the relationship of humankind and these animals.
What was the overall message?
Aside from just being blown away by the visual images and how life is in the Arctic,the message is that life is changing and happening really rapidly up in the Arctic.Obviously it's happening all over the world because of climate change - it's one of those, as Al Gore calls it, a "canary in a coal mine." Because of the climate change,the lessons these animals learned from their parents are no longer applicable in the same way.So they are forced to do bold and courageous new things that they weren't necessarily equipped for. And I think that's a message for us, and some people will leave thinking that, yes, we do live in a new world and we will have to make some bold and courageous changes to address this problem.
Was the movie concept familiar to you, or was there anything eye-opening?
I don't think that I'll ever look at a walrus the same. Again,you see these things up-close and personal and they are amazing and funny animals.We know what a polar bear looks like and we know what a walrus looks like, but to see them in such an incredible environment was amazing.
What was your favorite scene?
The baby polar bears,you can't not love them. They are just ridiculously adorable furballs.
How was the narrating?
Great - Queen Latifah, she's it. God bless her, she did a great job. You can relate to it and there's emotion. It's still a documentary, but they add a story and obviously it's sort of a human story. The filmmaker's response to some of the reviews is that they gave it a human narration,but this is how the animals act.They embrace each other, they give affection to each other, they protect each other.They have human characteristics and other animals have them too. When you see seals hugging, it is almost a human side, but it makes us realize that wow, they're not too different from us.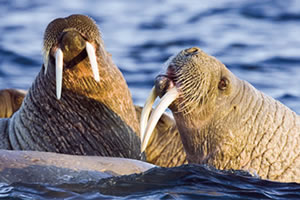 Would you compare this movie to March of the Penguins?
Oh, yeah, totally, same genre. I loved that film,but I'm pretty crazy for penguins too.
If you had to compare, which of the two is the better movie?
Oh,that's not fair.They are polar opposites, so to speak, because one happens in Antarctica and one happens in the Arctic.But again, same idea. They are both very educational because they tell a story that people don't know.I mean,who knew penguins march for something like 70 miles? And you get a whole new respect. And the same for this movie.
You have a whole new respect for what these guys go through and now with the changing environment,it's pretty dramatic.
Besides March of the Penguins, is there any other movie Arctic Tale reminds you of?
No. These really stand out as being nature documentaries, but there's an underlying message, which is things are changing and what are we going to do about it? It was very subtle though.It was not preachy at all.It just shows how what we do in our home affects their home, and I think that will move people. But An Inconvenient Truth is the same message, but a totally different approach. These March of the Penguins and Arctic Tale films are geared toward the family and tell a story. And you definitely fall in love with the characters.
Do you think this movie will have an impact on what's done to preserve the homes of these animals?
Definitely. I think this is another approach geared to family, and hopefully we'll have kids asking their parents what are we doing about it? Education is key in getting kids to understand that this is happening today and for better or for worse this is the challenge that is in their laps right now.
In a four-star rating, with four being the highest, what would you rate the film?
I would give it * * *.
What's your favorite movie snack?
I gotta watch what I eat,but if I'm really going to indulge,it would probably be Junior Mints.
Do you have a favorite movie of all time?
Well,it's so hard,but I'm kind of a sucker for any comedy. Indiana Jones as a kid growing up was a great movie.
Do you have a favorite actor/actress?
Not really.
What's new?
Climate change is pretty much our sole focus right now, which is why this movie is so key. But I'm still giving the presentations based on An Inconvenient Truth. It's our focus now and it's so critical,and we have so little time to act and get changes put in place.
We also have a band called Soul Treatment and it's all environmental friends,and we play kind of like neo-soul and funk music.We'll be at the Kona Brew Pub on the 26th of this month.
Most Recent Comment(s):