Wednesday - January 31, 2007
By
.(JavaScript must be enabled to view this email address)

Movies Showtimes
Share

Arthur And The Invisibles
Elizabeth Watanabe
Owner of O Lounge with son Kevin
As Told To Melissa Moniz
Where and with whom did you see the movie?
I went to Pearl Highlands,Theatre 2, and it was my son Kevin and I.
Overall what did you think of the movie?
You know, it has incredible animation and it was focused to attract all ages.
I really liked it because grandma can take the grandchild, and mom and dad can go with cousin and brother because the humor in this story was for all age levels. The animation and the graphics were beautiful for the younger children, and teenagers can relate to a lot of the issues going on within, like the power struggles. And the adults, we got a kick from the satirical behind-the-scenes shots.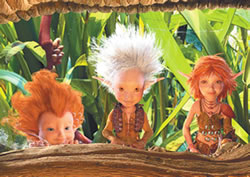 What did your 2-year-old son think of the movie?
When the action picked up he was very involved. My son is very rambunctious, so when they were on their little quest then he was very interested and intrigued by it.
Among the many animated movies released in recent years, there are quite a few that contain crude language or crude behavior. Was this movie age appropriate for really young kids, or were there some scenes that
How would you compare this movie to other animated films released recently?
I enjoyed it, but it wasn't the best that
I've seen recently.
But it was good and really well done.
What about the movie do you think they could have improved?
It was an animated movie, but it wasn't for the toddler age. It was intended for more the 5- and 6-year-olds. For me, as a mom of a toddler, I look for movies that are for the toddler age, but there aren't very many.
In a four star rating, with four being the highest, what would you rate it?
I would rate it . But if I based it on how it kept my son's attention, I would rate it .
What's your favorite movie snack?
My favorite movie snack is popcorn with jalapenos. You know, in Mexico, if you go to the theatre, you know how they have the squirt ketchup? They have that with lemon juice and hot sauce. So instead of putting butter on your popcorn, you put lemon juice and hot sauce, and I miss that so much.
What's your favorite movie of all time?
It used to be The Color Purple, but

now it would have to be When a Man Loves a Woman. If you want to cry, you've got to watch this movie. She's married to a pilot and she's an alcoholic, and she goes through all these stages. It's the true meaning of unconditional love and that sometimes love just isn't enough.
What's new?
Well, I am in the process of looking for a location to open up a bistro. And I also will be opening up a nonprofit this year. At O Lounge we have lots of things going on. Our once-a-month Jazz Night has become the singles hangout. It's great for couples, because it's a romantic setting, but it's also a great place for singles to meet. Thursdays are incredible now because we have local rotating per-
Next week: a new movie, a new celebrity
Most Recent Comment(s):