Wednesday - December 19, 2007
By Kerry Miller

Movies Showtimes
Share

Atonement
Susan Killeen
Organizer of "The Big Road"
As Told To Kerry Miller
Where and with whom did you see the movie?
I saw the film with my husband, Garrett, and some of my friends at Dole Cannery.
Overall, what did you think?
I was very impressed with the piece. I thought it was a brilliant piece of filmmaking. Everything about it - the cinematography was luscious. I felt invited into every single scene.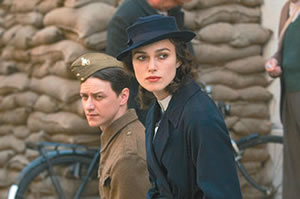 This is based on the novel by Ian McEwan. Are you familiar with the book? How close to the book is it? What's different? Familiar with the author?
I did not read it, however I am going right out to get the book.
What was remarkable about it was the very first scene. It opens on a country home, an estate. Then the camera pulls back and you realize it's not what you see, it's a doll house. This is how you realize things are in the film, things are not what they seem.
It's all told through the eyes of this young girl, Briony (Saoirse Ronan plays 13-year-old Briony;
Romola Garai plays the 18-year-old Briony; Vanessa Redgrave is the elder Briony). She is 13, she's a writer and she's very precocious. In a way, she's arrogant. She sees this passionate scene between her older sister Kiera Knightley and her love interest James McAvoy. She really sees it as a scene of violence. She's gotten a piece of information she's intercepted, a note, and reads the note from James McAvoy for Kiera Knightley. It's something she wasn't intended to see. Those sort of begins a lie she tells, which tears the two lovers apart. It sends him off to prison and then off to war. She, as an artist/writer, is trying to atone for this sin of lying.The scene in the library, by the way, is just an exquisitely passionate love scene. I've never seen anything quite like it.
What about the love story between the two characters? Were you sucked in?
I was definitely sucked in. It's painful, tragic, tantalizing. It's also satisfying.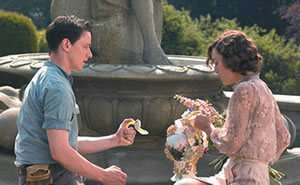 How was the acting? Did anyone stand out?
Kiera Knightley is stunning in her acting, her facial expressions. James McAvoy is amazing as well.The story and conflict is often so much about what is not said between people as is what is said. The tension of them trying to communicate their feelings to each other throughout the film - the love, the passion.The two of them, it's just this wonderful restrained style of acting.
Favorite scene or character?
There's one, a very potent scene. It's one continuous shot, and probably lasts about five minutes. It's a scene from the war, the beach in France. Basically, what it's showing us is the brutality of war, the longing of soldiers just wanting to be back home with their loved ones. It's very compelling, it grabs you in. It was kind of Fellini-esque.
On a scale of one to four stars, what would you rate this movie?
I'd have to rate it four stars. For me, I know something is a good film when I find myself thinking about it for days afterwards.The images were so strong, the emotional components were so strong. It's got all the various components of great film: love, passion, classism, the issue of art being able to redeem this woman, with the title being Atonement. She's a writer, she stays with writing. I don't go to a film for pure entertainment. I really enjoy it when it rocks my foundation to a degree.
Favorite movie snack?
When they're selling Goobers, that's what I buy.
What's new?
I'm the project manager for the Big Read, an initiative from the National Endowment for the Arts based on a model for getting the community reading one book. People aren't reading literature as much as they did. Statistics show fewer Americans are reading for pleasure. We're wrapping up our first round. The projects come usually every six months. It's a month-long focus on the book you've chosen.
This is the first round (of the Big Read) that Hawaii has done. From now on, NEA will do it once a year. We're hopefully applying for another grant for the second round.We have a group of great partners that got together to do this.
Most Recent Comment(s):