Wednesday - December 30, 2009
By
.(JavaScript must be enabled to view this email address)

Movies Showtimes
Share

Patrick Brent
Marine, businessman, journalist
Overall what did you think of Avatar?
It was a unique film with groundbreaking new technology. It was a merger of high technology and ancient civilizations.There was a heavy message on ecology, rain forests and the environment. On the other hand, I'm not sure that the ladies will enjoy this movie because it has a lot of violence. We saw this movie in 3-D, and I'm not a 3-D fan but I think that's the way to see it.This movie is so unique and the technology is phenomenal.The tropical jungle and the whole thing was just something else, so you just gotta do the 3-D.The movie was long, but the technology kept me so dazzled that it went by really fast.You need to see it because it's so unusual.
Was the storyline believable?
The storyline wasn't believable. It takes five years in a capsule to get to this place. The gentleman who produced this, James Cameron, has an incredible imagination. From a standpoint of storyline, I'm not sure I can recommend it. Cameron really tries to do everything in this movie. It was corporate America at its mercenary worst against some really beautiful, nice people.And the person who tried to save the day was a U.S. Marine.
But the storyline really is nothing new, just a little bit of a lot of great things in the past - boy meets girl, U.S. cavalry, break a horse, bad guys vs. good guys.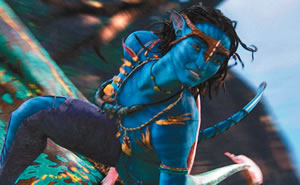 So the main character is a Marine. Do you feel he did a good job?
Let's just say that young Marines are going to love it. The hero in the movie, Jake, is a young Marine who is a paraplegic and lost the use of his legs - he's just phenomenal.
When he got captured by the native tribe, Na'vi, they ask him who he is, and he says, "I'm a warrior from the Jarhead clan." It's completely Marine.The term Marine was used at least three dozen times and I have no problem with that.
Does this movie remind you of any others you've seen?
The very first Star Wars movie dazzled me, but the sequels bored me.And this movie is like that. I was dazzled, but I wouldn't want to see a sequel to this because the storyline wasn't that strong.
Did the movie wrap up nicely, or did it hint that there may be a sequel?
There was no great hint. I don't want to give away the ending, but I can say that it did wrap up and conclude.
On a scale of one to four stars, what would you rate this film?
★★★.
It is said that the movie is banking on merchandising Avatar toy figures. Do you think that the product will do well?
Yes, just like Star Wars. I see this movie as being one of the most financially successful Hollywood projects ever.
What's new?
I'm am still a businessman in Honolulu and I am in the middle of writing two books, one called The American Geisha and the other Sea 29.
I also do newspaper and magazine stories on behalf of the Marine Corps.
Most Recent Comment(s):