Wednesday - July 06, 2011
By
.(JavaScript must be enabled to view this email address)

Movies Showtimes
Share

Where did you see the movie and with whom?
At the Kapolei Consolidated 16 theaters with my daughter.
Overall, what did you think?
I found the movie to be hilarious, pretty much on target with what some teachers are like. However, I have never seen anyone drinking alcohol or doing drugs in school. For the most part, being lazy, not caring about students' feelings and not being driven is the wrong characterization of the teaching field. I have seen so many extremely passionate teachers. I truly enjoyed the movie and couldn't stop laughing at the "teacher catch phrases" as well as typical scenes that have occurred as a teacher with my students.
On a scale of one to four stars, how would you rate this film?
★★★★!
Was the message/theme of the film clear?
I found the theme to be definitely clear as there are teachers who are driven by mere extrinsic motivators to perform well as an individual versus intrinsic.
Did you identify with any of the characters?
I was not able to identify with any teacher per se, but rather found their characters to be on target for individuals I have met along the way as a teacher.
Who would you recommend this movie to?
I would definitely recommend this to other teachers preschool, elementary, middle and secondary as well as posthigh school. It was hilarious. My daughter kept telling me to be quiet.
Would you buy this movie when it comes out on DVD?
I would definitely buy this movie. It's a great one to add to the collection.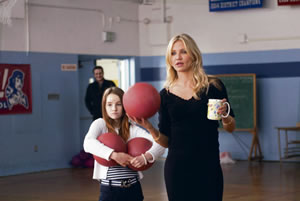 On a different note, what's new with you?
I recently held the Ms. Hawaii 2010 title and later went on to enter a national pageant in Montana. On June 12, 2011, I was crowned America's Super Ms. 2011. I am promoting seat belt safety. Hawaii is the state with the secondhighest seat belt use at 95 percent, which is great, but we still lose lives every year. By the end of today, 38 lives will have been lost in fatal car crashes where victims were not wearing a seat belt. If I can make a difference using my title to help promote a change of thinking when getting into an automobile, then my title is not in vain. I currently volunteer for Prevent Child Abuse Hawaii, Pinwheels for Prevention, Breakfast with Santa, Baby Expo, Teddy Bear drive, Project Grad-Kapolei High School, American Red Cross, Bella's Dress Giveaway and at the Boys and Girls Club of Hawaii-Waianae site. I have participated in the Aloha Week parade, many Christmas parades, Youth Day at the capital, Pearl Harbor Veterans Dinner where I read the Mayor's Proclamation, Sharon's Epilepsy run/walk/ride, Meadow Gold Healthy Baby contest, judged various pageants and helped backstage as well.
We often think we are too busy to pause from our schedules, lifestyles, comforts and joys to help someone else out. It really only takes willingness and effort. I am living proof we can make time to good for others, lend a hand and become a role model for those who look up to us. I am a single mother of four (18, 16, 12 and 6), and I recently earned my master's in teaching (science). I recently became a member of Ka'ahumanu Society, became Ms. Hawaii 2010 and then entered a national pageant. I hope that through my accomplishments I can inspire and motivate others. Remember to put God first, believe in yourself and never give up. The goals you set can be the inspiration someone else needed to see. Become a role model, give back and DON'T FORGET TO ALWAYS BUCKLE UP!
Correction: Last week's Hot Ticket reviewer Alicia Jones was listed under an incorrect name. We regret the error.
Most Recent Comment(s):