Wednesday - September 12, 2007
By
.(JavaScript must be enabled to view this email address)

Movies Showtimes
Share

Balls of Furry
Dave Vinton
Manager of OC-16 Sports
As Told To Melissa Moniz
Where and with whom did you see the movie?
I went with a bunch of friends because I promised that they would be mentioned in MidWeek (laughs) and we went to Mililani Theatres at the Town Center.
Overall what did you think of the movie?
Overall I went in expecting that I didn't have to think much and that certainly didn't disappoint me. And trust me, I don't mind mindless humor. With that said, it was OK, but it still left you feeling a little bit flat. You could see everything coming and going, and even with a notable cast it still left you going, huh?
A lot of people compare it to Dodgeball: A True Underdog Story. How do you think it compared?
Well I thought it was going be something along that lines. And I'll say that I really, really liked Dodgeball. I thought it was a funny movie from beginning until and it was another one of those movies that was stupid humor where you knew what you were getting, but you enjoyed it. This movie was along those lines, but the story just fell through. The gags just fell flat, so it's an interesting contrast between one that works and one that doesn't.
Did you laugh-out-loud during any of the scenes?
I may have chuckled-out-loud a bit from time to time and I was smiling. It wasn't as if it was a total waste of time, but your sides weren't hurting or anything.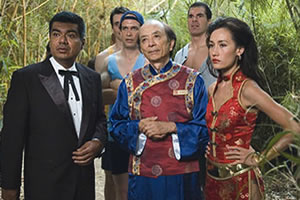 How would you rate the acting?
The acting was really good. There's like Christopher Walken, Jason Scott Lee, Cary Tagawa, Maggie Q, George Lopez is in it. They're all individually good, but the story and the lines and stuff are just not that great. Even the most talented people can only do so much with the ingredients that they're given. But yeah, I found myself wondering sometimes, what were they all thinking when they were making this movie? They are intelligent people and I guess they got a good paycheck out of it.And if you watch their chemistry it seems like they really had a lot of fun together.
Who was the most stand-out character?
There's two characters that really stood out for me and the first I'll say is Maggie Q because she's from Mililani High School and I'm from Mililani High School, so you got to support your fellow Trojans.And it doesn't really hurt that she's really attractive, but aside from being attractive I think she's a really good actress. I'm just waiting for her to get a role where she can really show it. I believe her last name is Quigley, so if her family is around, I thought she was wonderful and you can send an autographed picture over to OC16 for me.And I'll appreciate it. Other than that, Christopher Walken's character is over-the-top. He playsthis Liberace, ping-pong overlord, and he is funny as that.Those are the two characters that I would say stood out.
Was there a deeper meaning or a message behind the silliness and humor?
A deeper message behind a movie called Balls of Fury? You're probably not going to drown in the pool on that one, it's going to be really shallow.Again you know what you're getting and there's the innuendos with the balls and ping pong. If you really want me to break it down for you, it's a story about revenge and redemption. And then a little love thrown in there if you really want to make something out of it.
Would you recommend the movie?
Well I'll put it to you this way, depending if you're planning to buy a lot of snacks and popcorn and the bill gets kind of high, I would say that a better deal would be to wait for it to come out on Oceanic Pay-Per-View, watch it from home by ordering it through us and you'll be much more satisfied.You see how I work in all the plugs for Oceanic?
In a four star rating, with four being the highest, what would you rate it?
I would say * 1/2.
What's your favorite movie snack?
My favorite movie snack is buttered popcorn, the more butter the better, and a Cola Icee.
Who is your favorite actor/actress?
I'd say Harrison Ford is good, Denzel Washington is good, Jodie Foster is awesome.
What's new?
Well OC-16 has started its 19th year in high school football with the OIA, so we're into the busy time in our schedule as high school football is underway. So that's exciting to be involved with those broadcasts.And we just keep continuing to add more sports with the different leagues, like OIA, ILH, outer islands, you name it. We love to do it and it's a lot of fun.
Next week: a new movie, a new celebrity
Most Recent Comment(s):