Wednesday - September 17, 2008
By
.(JavaScript must be enabled to view this email address)

Movies Showtimes
Share

Kenneth Silva
Chief, Honolulu Fire Department
Where and with whom did you see the movie?
I went to Windward Mall and I saw it with my wife.
Overall, what did you think?
I'm a big Nicolas Cage fan. I think if he wasn't in it, then I wouldn't really care too much for the movie. But he did his best to carry the movie. I thought the movie was OK. I guess my expectations were a little higher.
What is your biggest criticism about the movie?
I think the pacing of the movie was a little slow. I thought the plot was a little thin.
Was the story-line believable?
It's kind of out there to begin with, but for what they were trying to portray, I thought it was pretty believable.
Any fire scenes in the movie?
Well, you know, I'm always looking at different things, especially incidents that the fire department would respond to. But most of the stuff in the movie was all action and law enforcement-type of things. But as far as how they portrayed it, it was entertaining.
Was there any particular scene that stood out for you?
Actually, the scene I like the best is when they were in these small boats and one of Nicolas Cage's hits was going to be traveling in those boats. So they ended up speeding and chasing each other. So that was pretty good.That was probably the highlight of the movie.
What did you think about the acting?
I've seen Nicolas Cage do a lot of good stuff. I loved him in The Rock and even National Treasure. I think he tried to do his best, but it was a little stiff.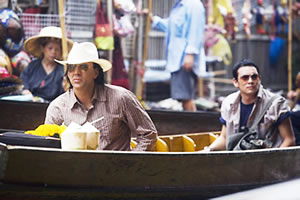 On a scale of one to four stars, what would you rate this movie?
I think, if I was being generous, ★★1/2.
To whom would you recommend this movie?
I would think that adults 20s and 30s.
What's your favorite movie snack?
Popcorn.
What's your all-time favorite movie?
My favorite movie of all time is Vision Quest. It stars Matthew Modine and he was a high school wrestler in the movie. And it's because I was a wrestler in high school and a wrestler in college, and it was kind of around that time.
What's new?
What I'd like to talk about is we have Fire Prevention Week coming up in the first week of October. That's always an important time for us to get out our safety message.What I'd like to highlight for this year is that we're actually going to open up our fire museum that entire week.The fire museum is located right next to our headquarter on the corner of Queen and South streets. So that's Oct. 7-10.
Most Recent Comment(s):