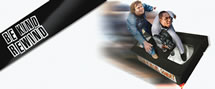 Wednesday - March 05, 2008

Movies Showtimes
Share

Charlie Castro
Instructor for Salsa No Ka Oi
As Told To Kerry Miller
Where and with whom did you see the movie?
I went with my girlfriend to Ward Theaters.
Overall, what did you think?
I thought it ended up being a pretty good movie.
Are you a fan of Jack Black? Was he funny in this movie?
I'm a fan, and he was definitely funny. It was a movie, I think, that only he could play the part.
As far as the storyline goes, it's basically these guys are remaking movies in a short period of time with limited resources. How believable was it?
I don't know about believable, but the story actually was pretty good with them just doing little spoofs of movies that people wanted to see.
In the movie, Mos Def's character works at a video store that sells only VHS. Is it conceivable that such a store could exist, in your opinion?
I think there are video stores because some DVDs they haven't released, like old films. But, as far as just having a VHS kind of store, I don't think it would exist with a lot of people going to it.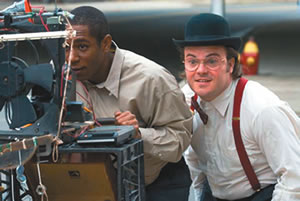 What about the acting? Did anyone stand out?
Jack Black, he was very funny. I thought he did a real good job. Mos Def, I think, actually seeing him in different movies, he's starting to grow as an actor, so I think he did a pretty good job.
On a scale of one to four stars, what would you rate this movie?
Maybe ★★1/2.
To whom would you recommend this movie?
I'll probably recommend it to my friends. They kind of have a Jack Black sense of humor.
Favorite movie snack?
Popcorn and mochi crunch.
Do you go to the movies often or are you busy with salsa classes?
I'm a movie buff, so I tend to go a lot.
What was the last movie you saw before Be Kind Rewind?
National Treasure 2.
What kind of movies do you most like to watch?
Anything.
What do you do for full-time work when you're not teaching salsa?
I work for the Postal Service. I'm a letter carrier.
What's new?
Our Group, Salsa No Ka Oi, is local instructors trying to promote salsa in Hawaii and to everyone. (This Sunday) We have a free class at 6 p.m. and then at 7 we have a bacchata class for $10. Other than that, we're just working on our website, that's our next thing. We have a myspace right now, that's what we use right now, (but) we're trying to work on our own website.
Next week: a new movie, a new celebrity
Most Recent Comment(s):