Wednesday - September 06, 2006
By
.(JavaScript must be enabled to view this email address)

Movies Showtimes
Share

Beerfest
Movie Review with Kaleo Pilanca
Comedian and Radio Personality on 98.5 FM
As Told To Melissa Moniz
Where and with whom did you see the movie?
I went with my girlfriend Mallory. And I invited Lanai, Crystal and Kennyhune.
Overall what did you think of the movie?
Overall I thought it was very funny - a hilarious movie. It had its moments where it was kind of weird. But overall it was very funny. It took me back to the days when drinking was important, but not anymore.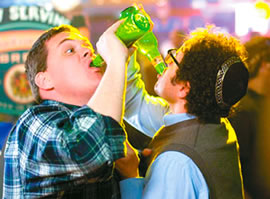 Was the whole movie about drinking beer?
It was a combination of drinking and family. They show each person with their ohana and how drinking affects them. Like one guy, his wife left him because he drank too much, and another was homeless. And then they got the team together, and then the focus was about the team and how they got to train. So the guys were like we gotta train, we gotta train so we can do good and challenge the Germans.
Was the challenge basically who could drink the most beer?
Yeah, it was who could drink the most beer without spilling a drop. You know, like waste, yeah? Wasting is important in the movie. You got to drink without spilling a drop and you become a winner. And they get teams of five and one guy drink, boom, and then the next guy drink, boom, and whoever drink all theirs first is the winner.
Do you think that you could have drunk as much as they had to drink?
Back in the day, in the primes, yeah, I would definitely give it a shot. I remember back in the day with the funnel and the old-fashioned quarter bongs. Quarter bongs is what got us started.
Do you think that the movie promotes drinking?
In the beginning it says right off the front, don't copy this at home. And, of course, a lot of boobies are being shown. So they show that as you drink that a lot of clothes come off. There's some swearing in there too. So it's more for the older crowd who no mind stuff like that. But it does promote drinking a lot. One person in the movie lost his life because he fell into the beer tank. He tried to drink his way out, but couldn't get out and he passed away. So kind of like drink safely because you might lose your life, you might lose your wife.
Was the comedy well done in the movie?
The part that I liked most was when they were drinking and battling. But before that the setup was weird.They had a weird niche comedy to it. Like they had an old lady boiling a foot. So it was like weird comedy, but it was still funny.There was also some real adult humor.
How was the acting?
On a scale of one to 10, I would probably give um one eight. Not too bad, pretty good. You don't recognize anyone in there and was all brand new faces, so was different.
Is there another movie that you have seen that you would compare this movie to?
I would say like Bloodsport, Best of the Best.You know that feeling of competition? It does get your blood going and your adrenaline flowing.You wish you could go in there, too, and battle.
In a four star rating, with four being the highest, what would you rate it?
I give um three and 1/2 stars.That's based on the sense of getting your blood going and the funniness of it all. But for the kids, not too good because of the boobies showing and, of course, the beer goggles. The guy, he goes home with a beautiful girl, but he's all drunk. But anyway, to me everyone is beautiful inside and out. I always get my beer goggles on.
What's your favorite movie snack?
It's gotta be popcorn with furikake, mochi crunch and plenty, plenty butter all over the place, and one Sprunch on the side.That's the whole action right there. Gotta wash um down.
What's your favorite movie?
Well you know me, I one surfer right? So gotta be like Point Break. I like all kind movies though. Me, I'm a chick flick kind of guy. I like Serendipity and A Knight's Tale and stuff like that.
Who's your favorite actor or actress?
I like Robin Williams. I also like Jim Carrey.
What's new?
Right now I'm still with Da Braddahs
and Friends on OC-16 sharing aloha as the disclaimer boy in the beginning.
I just started the radio Morning Madness with Lanai and Crystal on 98.5. So I'm one of the DJs on there. And every weekend I'm booked for private parties and concerts. There's the Comedy Shack coming up on Sept. 9.
I'm even working on my clothing line, Nahenahe Clothing.And just taking care of family and smiling and laughing.
Have you always been into comedy?
I guess I never really call it comedy, but everywhere I was, I was always into always laughing and having a positive outlook to make somebody laugh. 'Cause I always felt that if I made somebody laugh, or give them a hug or smile, and that could change their life and give them a better day. I always think like that every morning.
Next week: a new movie, a new celebrity
Most Recent Comment(s):