Wednesday - April 11, 2007
By
.(JavaScript must be enabled to view this email address)

Movies Showtimes
Share

Blades Of Glory
Kahiapo Tavares
Ice Palace Manager & Figure Skater Instructor
As Told To Melissa Moniz
Where and with whom did you see the movie?
I saw it with my co-worker Therese Hayes and my children.
Overall what did you think?
The beginning was great and it was really funny and hilarious, but the storyline I didn't like too much.
Do you think it made fun of figure skating?
I didn't take it as making fun, it was actually funny to see it that way just because people take figure skating or any sport very seriously. It was actually a lighter side to the sport.
Did you go in with any expectations, and if so did it meet those expectations?
I did go in hoping to be entertained by the way that they perceive skating. But again, the story-line I didn't care for. It was real funny and then it kind of dwindled off.
Will Ferrell and Jon Heder are both really funny in previous movies. Did they deliver in this movie?
Yes, they did.
Did you appreciate the cameos of former figure skaters in the movie?
Yes, I did appreciate that. It made it more realistic. Scott Hamilton, who was one of the commentators throughout the movie when they performed, was great. He made it really interesting.
What was the best aspect of the movie?
In the beginning, when they are doing a mock of a competition and they have their little intro. Usually when you watch a figure skating competition they like to put a personal touch to it, so they'll take a skater and give a little bit of their background. They did the same thing, but in a funny way. Because it seem so sappy during the competition, but they turned it around and made it funny.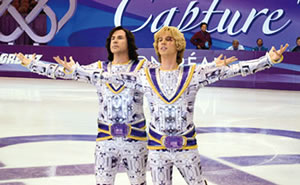 Who do you think was the stronger character, Will Ferrell or Jon Heder?
Jon Heder,
just because he had a harder role. The other guy was more macho and that's a normal kind of role.
Is it a movie that you would see again?
I would see it again, but I know other people who said that they'll wait until it comes out on video.
Is there another movie that you think is similar to this movie?
This is an old movie, but Robin Hood: Men in Tights. It's like a twist off the regular Robin Hood. It's something like that, with something mocking another. The storyline somewhat followed The Cutting Edge.
In a four star rating, with four being the highest, what would you rate it?
Three Stars, maybe two and 1/2 stars.
What's your favorite movie snack?
Popcorn.
How often do you go to the movies?
I don't go very often because I have a young child, but because I have kids it's usually the cartoons.
Who's your favorite actor/actress?
I like Kevin Costner a lot.
What's new?
There's always lots of new things happening here. We have an Old Timers Tournament, which is hockey. The tournament is this month, April 22 to 25, and it's for anyone 30 and over. And then we have people coming from California and Alaska, and there's a couple local teams here. And our big thing is our rink is having its 35th anniversary this year, this September. We're just trying to do a lot of major improvements on the building. And then in July we have our figure skating competition. And all of these are free to come and watch.
Next week: a new movie, a new celebrity
Most Recent Comment(s):