Wednesday - December 13, 2006

Movies Showtimes
Share

Blood Diamond
Mike Han
President of The Wedding Ring Shop
As Told To Melissa Moniz
Where and with whom did you see the movie?
I saw the movie at Dole with my 15-year-old son.
Overall what did you think of the movie?
Overall I thought it was an excellent movie, very well done. I thought it was entertaining and the cinematography was superb.
Was there a particular scene that stood out for you?
The particular scene that I enjoyed was the scene where Solomon is talking to his son, who had been under the influence of the rebels and being trained to hate. The father was trying to have him remember who he was and the son that he once was, which he was a very good son.That son was interested in school, helping people and becoming a doctor.And then the rebels who captured the son turned him into a very ruthless person. But I think the son was very young and able to recognize that deep inside this man who he almost forgot was actually his father, and he was at the core is like his father, who is a very good person. It was a very dramatic scene.
The title of the movie is Blood Diamond. Can you tell me how that relates to the storyline?
Blood diamond relates to the storyline in that the diamonds smuggled in were being used to fund these rebels, who were buying arms and taking over the government and the landscape. They were trying to win power over the people by torture, by looting.And I think the term blood diamond really was appropriate in the light of how much blood was shed by these rebels. But the term blood diamond also related to the one diamond that was the main diamond in the picture. It was sort of a pinkish color and it was a diamond of over 100 carats that was found by the main character, Solomon.That diamond was significant in that it symbolized power and freedom for his family and himself.The other main character, who was played by Leonardo DiCaprio, also wanted the diamond because it represented his escape from this terrible situation. So this blood diamond represented power and freedom, but it also represented in essence a lot of turmoil and the bloodshed that was going on.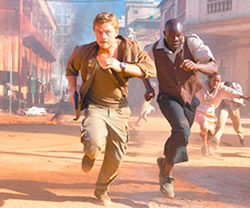 With your knowledge of diamonds, do diamonds of that size and color actually exist?
There certainly are pink diamonds, and there certainly are pink diamonds of that size. This was a rough diamond, and it was hard to say whether that really was a true depiction of how that diamond could have been identified so easily as being worth so much money. The movie really portrayed the mining of diamonds in the rivers and streams, which is called alluvial mining.It means that diamonds that come out of the volcanic eruptions that flow through erosions through the streams and the rivers end up in the stream beds, and these diamonds are found just as they used to pan for gold. And so alluvial diamonds are found on the surface rather than having to dig through mines, which requires heavy machinery and so forth. So this is the way they were finding their diamonds in the movie.
How would you rate the acting in the film?
Very good. I would rate the movie overall excellent. Now that being said, I want to be clear that one of the things is that the movie involves diamonds and a very controversial method of obtaining diamonds. I want to be perfectly clear that although the movie may not be perfectly accurate, it was important for that story to be told.That being said, the public should know that there have been great steps, very strong and revolutionary steps, taken by the diamond industry to overcome and to almost eliminate most of the problems of these types of diamonds being sold for illegal purposes.And that's,of course,called the Kimberley Process, which is a government-regulated system that was adopted in 2000 by more than 40 countries.The film depicted it as being adopted in 2003, and that's not correct. So it was adopted by more than 40 countries to control the import and export of diamonds across the borders.
Is it a movie that you would see again?
Oh yes, I would.
In a four star rating, with four being the highest, what would you rate it?
I would rate this a three and 1/2 stars.
What's your favorite movie snack?
Popcorn.
What's your favorite movie?
Life is Beautiful.
What's your genre of movies?
I'm not sure what it would be called, but I like movies that have an inspirational message that is based on true facts.
What's new?
Well what's new about our business is we are in a brand new location, brand new store on the corner of Kapiolani and Pensacola.We moved in late spring, and this is our first Christmas in our new store after being in Ala Moana Center for 19 years.And this would be our 20th year in business, and we more than ever are looking to bring Hawaii the best diamonds from around the world that have the highest credibility and the most brilliance for the best price.
Are there any holiday specials?
We have a big special event with the Hearts on Fire diamond company, which has the world's most perfectly cut diamond, and that will be coming in the middle of December.
Next week: a new movie, a new celebrity
Most Recent Comment(s):