Wednesday - January 21, 2009
By Kerry Miller

Movies Showtimes
Share

Tanna Dang
Owner of The Wedding Café
Where and with whom did you see the movie?
I saw it at the Ward Theater with my sister Tessa Gomes, my friend Jaime Kinoshita and my mom June Takekawa.
Overall, what did you think?
I thought it was fantastic, so funny, hilarious. I think I have a different appreciation of it because I am in the wedding industry. I live and breathe weddings.
What about the acting, did anyone stand out?
I'm a huge Kate Hudson fan, so I always love the roles.
Even Anne Hathaway - both of them, to me, depicted what would happen, the way they react and the looks they give each other. The grooms, it was almost like they were handling these bridezillas. The planning takes over, but it's not about the wedding, it's all about the marriage. It was funny the way they did it.
What was one of your favorite scenes?
One of my favorite scenes was probably when Anne Hathaway - she was the shyer, quieter one - was always doing what Kate Hudson wants to do.
You can tell they balance out really well. Liv (Hudson) thought she was going to get engaged first. She found the ring and was telling everyone she was getting engaged. It wasn't done in a serious way; it sweetly portrayed how things changed when they went from best friends to brides. The wedding doesn't have to change your life, that's what we tell our brides.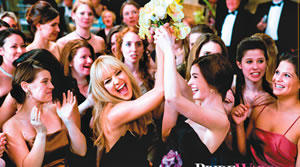 Did you identify with the characters?
Oh, definitely. I can definitely see me and my best friend going through the same thing. Every girl has a dream about her wedding. That's her day. I think everybody feels that same way.
On a scale of one to four stars, what would you rate this movie?
Because I'm a total wedding-holic, I'd give it ★★★★. If my husband went, or people who were not getting married, it would be just a silly comedy. To me, in my mind, it's ★★★★. It's everything that I live and work through.
To whom would you recommend this movie?
Definitely to all brides. This is a classic movie you want to show to people getting engaged. They're spoofing all the things that go through your head.
What's new?
A huge thing for us is we're releasing a book, Wedding Belles. I'm really excited about it. Seventy-five different local brides who got married in Hawaii tell the stories, bloopers about their day, and I give tips on different things. It's going to be at bookstores, Barnes & Noble . Hawaii weddings are so different from Mainland weddings. It's neat how these local brides get to tell their stories. The first book signing is Jan. 26 at Barnes & Noble Ala Moana. Brides can come - they pick up a book, get it autographed and they get a Bridal Brag Bag.
Most Recent Comment(s):