Wednesday - June 01, 2011

Movies Showtimes
Share

Stephanie Lum
News Anchor at Hawaii News Now
Where did you see the movie and with whom?
Believe it or not, I actually went to see the movie twice because I enjoyed it so much! I saw it at the Pearlridge theaters with my girlfriends and guy friends, and a second time with Hawaii News Now at 9 and 10 p.m. producer Anthony Ferreira at the Ward Theaters.
Overall, what did you think?
Bridesmaids definitely surpassed my expectations. I went in thinking I was going to see a movie just like The Hangover except about the wild adventures of bridesmaids in Las Vegas for a bachelorette party. It turned out to be about a maid of honor down in the dumps dealing with her imperfect life and her best friend's news that she is getting married. A rivalry between the maid of honor and another jealous bridesmaid heats up, causing some friction and hilarious moments as they try to outdo each other and compete for the bride's affection. Each of the bridesmaids is quirky and that makes it even funnier.
On a scale of one to four stars, how would you rate this film?
Bridesmaids had the perfect cast of characters, smart writing and clever jokes. I also found myself laughing hysterically from beginning to end, so I give this comedy a high rating of ★★★★. I highly recommend this film, especially if you are looking for a good laugh. And ... guys, trust me, you will like it too.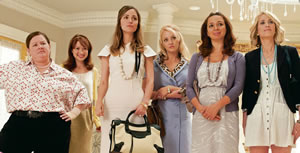 Was the message/theme of the film clear?
Yes. While funny, there's a serious message that I think everyone can relate to and take away. In the movie, the maid of honor named Annie (Kristen Wiig) hits rock bottom and can't seem to find "Mr. Right" and only "Mr.
Wrong." The message? We all face challenges in life, but don't let them knock you down. As one of the bridesmaids says, you need to get up and fight for your happiness, don't dwell in the past or future, focus on the now and appreciate what you have, like your family and your friends, who will always be there for you during the good times and bad.
Did you identify with any of the characters?
Yes. I can relate to the movie entirely because I am in the process of planning my own wedding, and my friends are in the process of planning the festivities. When the movie came out, my girlfriend organized a get-together for everyone to see it at the theater. Just like the wacky bridesmaids in the movie, the members of my bridal party are also pretty quirky, and just like the bride played by the character Lillian (Maya Rudolph), I am beaming and looking forward to an exciting time in my life.
Did it remind you of any other work in film?
No. This was completely original.
However, you might notice a lot of the actors are from Saturday Night Live, but I'm not sure that'll make you think of SNL. There are so many films about guys and their funny adventures, i.e., The Hangover, Knocked Up and The 40 Year Old Virgin. I'm glad there's finally a good comedy about girls being silly and having fun.
To whom would you recommend this movie?
Everyone in need of a good laugh!
On a different note, what's new with you?
I'm happily engaged to Ryan Itoman and looking forward to our big day! There's so much planning to do, but I'm enjoying every bit of it. I still have yet to find that perfect wedding dress! Also, our team at Hawaii News Now continues to grow. We recently welcomed veteran news anchor Shawn Ching, who joins me on the anchor desk for our news on weekdays at 5 and 5:30 p.m.
Most Recent Comment(s):