Wednesday - July 22, 2009
By Kerry Miller

Movies Showtimes
Share

Russell Tanoue
Fashion Photographer
as told to Kerry Miller
Where and with whom did you see the movie?
I saw it at Ward Theatres with my friend Kim Koga.
Overall, what did you think?
There is not much to think about.
Are you familiar with Sacha Baron Cohen and his comedic style? If so, how does this movie compare to his first film, Borat, as well as the Ali G Show? If not, then what did you think of the movie's storyline? Was it enjoyable and easy to follow?
This was my first time viewing any of his shows. Bruno had its moments, however, to my opinion it lacked substance. Easy to follow? Sure, but you had no choice. It was pop culture shocking humor right in your face.
As a fashion photographer, what did you think of the movie's outlook on the fashion world and Bruno's encounters with fashion models and others in the industry?
The show's outlook on the fashion world was very little. It was a bit over the top and exaggerated. When he was interviewing a model, asking her how difficult her job is, telling her how remembering your right foot from your left is a tough job - that basically is what she gets paid thousands for. It was predictable humor.
Does the character Bruno possess any remotely real qualities as far as being an authority on the fashion world, or is everything about him just totally preposterous?
Most of it is preposterous with a tad of it being real.
This movie is a comedy, but is there anything that you think viewers would learn about the fashion industry from watching it?
I don't think there is enough content regarding the fashion world in this movie. Perhaps one might learn how desperate some are in this industry to get to the top or to be exposed and some details on how a lot of Hollywood individuals groom themselves such, as anal bleaching and waxing. Or the lengths some parents go to get their kids a job in a casting call.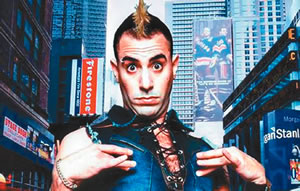 Were there any celebrities you recognized with cameos in the movie?
Paula Abdul, Elton John, Snoop Dog, Sting and Bono.
On a scale of one to four stars, what would you rate this movie?
★★.
To whom would you recommend this movie?
Honestly, it's not a movie to recommend, in my opinion. Just not my type of humor. The film is extremely graphic, not for everyone.You have to be extremely liberal.
Would you buy Bruno on DVD?
No.
What's new? Do you have any events coming up that you'd like people to know about?
On Saturday, July 25, is my popular "BEAUTIFUL" club experience party, this time themed "Summer Lovin'." It takes place at Pearl Ultra Lounge. Doors open at 8 p.m. and the party goes until 4 a.m.
Also, every first and third Wednesday is Zensation Happy Hour at Bonsai Restaurant and Lounge, starting at 5 p.m. Guests will enjoy mini massages, beauty treatments, great savings on clothing, boutiques and more. For more info, people can visit the fan site at : www.my-rt.com.
Most Recent Comment(s):