Wednesday - August 13, 2008
By Kerry Miller

Movies Showtimes
Share

Where and with whom did you see the movie?
With Joe Teipel, the Shipleys, the Hawaiian South Shore crew, they're a surf shop. I saw it at Regal Dole. (Bustin Down The Door is only screened at Dole)
Overall, what did you think?
I loved it. It's my generation. When I was growing up, these were my surf heroes, your teen idols, so to speak.Along with guys like the Hawaiian contingent Gerry Lopez, Jeff Hakman, Reno Abellira, Barry Kanaiaupuni, this movie was about the Australian/South African - more Australian, only one South African - that dominated pro surfing.
But a host of these guys came in in the early '70s and made big impact on the surf scene. I was living in San Diego at the time; I didn't get the inside scoop. From their point of view, I thought it was really good. A little bit of controversy stirred up from the film from Hawaiians who feel they were left out, that they didn't get their due respect for the impact they were having at the time. I thought it was very touching, inspirational. I thought it captured not just all the positives, but the conflict between ego and culture that went on at that time. It was about the power of dreams to overcome adversity. These guys were willing to risk it all to live their dream of being a professional surfer. Back then there was no world tour. Today there's like 11 stops around the world.
How well did the film tell the story? Was it historically accurate?
From their point of view, yeah. The movie was superb. It was put together really well. I do believe that they did leave out some things that could have rounded out the picture a little bit on behalf of the Hawaiians who were also surfing very well at that time.
What about the archival surf footage shown, what was that like?
The footage was all classic, the interviews were touching and heartfelt. Probably one of the most important eras in pro surfing history, it was the birth of it, the beginning of it not just for the Australians, but even the Hawaii surfers benefited from the sacrifice that these guys made.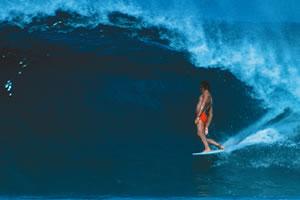 Several surf pros were featured in the movie. Who were they and what did they contribute?
Yeah, they do interviews with Shaun Tomson, the 1997 world champ (and the film's executive producer). There was Ian Cairns, Peter Townsend, Wayne Bartholomew, Mark Richards, Barry Kanaiaupuni, Eddie Rothman.
The movie was filmed on Oahu's North Shore. Did you recognize any spots?
I recognized every single one - Waimea, Sunset, Pipeline, Back Door.
On a scale of one to four stars, what would you rate this movie?
★★★★
To whom would you recommend this movie?
I'd say obviously surfers of all ages, absolutely mandatory, a must-see. Any sports person interested in how surfing got its start, I think they would find it interesting.
What's new?
Surf News Network is growing. My team is better than ever.We're adding a Diamond Head surf cam that's going to be epic, adding a couple of more North Shore cams. The number of people coming to the site are at record highs (http://www.surfnewsnetwork.com).
The only issue I have is that I seem to talk about surfing more than I get to do it.
Most Recent Comment(s):