Wednesday - June 21, 2006
By
.(JavaScript must be enabled to view this email address)

Movies Showtimes
Share

Cars
Movie Review with Scott Williams
General Manager Lex Brodie's
As Told To Katie Young
Where and with whom did you see the movie?
At Ward Center Theaters with my wife, son (4), and daughter (15).
Overall what did you think?
I thought it was very good, and my son enjoyed it as well.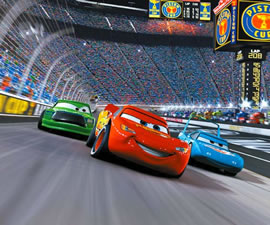 What was your favorite scene?
There were many very good scenes. The scene that sticks out in my mind is the tractor tipping scene. It's usually the type of scene that would get cut by the director in a long movie since it really wasn't needed to tell the story. You can't help but laugh when you watch it!
Did you have a favorite character?
Lightning McQueen seems like the obvious answer,but,Mater is my pick.Why? Mater is the hillbilly bucktoothed truck that is very likeable and simple character who makes you laugh every time he's in a scene.
How would you rate the acting?
The voice acting was very good. In some animated movies the voices seem to be heavily edited. The producers really went the extra miles to match the voices to the characters to where the characters really did come alive.
How were the special effects?
Awesome. Every little detail was given full attention. The sense of the race cars' speed from race track level was very exhilarating, the vehicles really came alive. Since watching the movie, I've started to recognize how certain vehicles' grills, bumpers, and headlights really do look like mouths, noses, and eyes.
Did the movie have a meaning?
To me, the movie clearly relayed the lesson that thinking of yourself and being self-centered does not bring you happiness. When you learn to think of others first, then you find true friends and great happiness. As the saying goes; "Look at the things around you that money cannot buy, and then you see your true wealth" - friends and family.
What was the best/worst aspect about the movie?
Everything in this movie was great! The only negative was that it was a little long for young children.
Is it a movie that you would see again?
Yes!
To whom would you recommend the film?
Everyone. It was that good, and its story, jokes and animation appeal to just about everyone.
On a four star rating, with four being the highest what would you rate the movie?
Three and 3/4 stars, the only deduction because the movie was a little long.
What's your favorite movie snack?
Popcorn and arare.
What's your favorite movie?
The Unforgiven with Clint Eastwood.

How often do you go to the movies?
Sadly, not too often (remember the 4-year-old?!).
Who's your favorite movie buddy?
My wife, Teri!
What genre of movies do you like?
I enjoy action,sci-fi,comedy,and even chick flicks! Why? I enjoy movies that take you away from your everyday mind-set and after you watch them, you feel good about the experience. Genre like horror or very silly adolescence movies leave you with a sick feeling or feeling like you just wasted an evening.
Who's your favorite actor/actress?
Clint Eastwood.
What's new?
I was recently picked as a finalist in the "40 under 40" for Pacific Business
Next week: a new movie, a new celebrity
Most Recent Comment(s):