Wednesday - June 29, 2011
By
.(JavaScript must be enabled to view this email address)

Movies Showtimes
Share

Alicia Jones
State Farm Agency Recruiter
Where did you see the movie and with whom?
At Ward Theaters with my husband Matt and 4-year-old son Brock.
Overall, what did you think?
We were so excited to see the film because our family has been a big fan of Cars. My son watched the first one when he was 2 years old, and we have probably seen it 50 times since. Cars 2 was just as good as the first with way more action and the same amount of tasteful adult humor. The cultural representation was done very well, as Lightning McQueen travels around the world to compete in the World Prix and visits Japan, Italy and England. Pixar's release of Cars 2 adds more pizazz to the international car racing circuit than the American Piston Cup offers in the first film. The swarm of exotic and vintage cars keeps the story going from start to finish. You don't need the exposure of the first version to pick up and understand the story line. The most exciting part was hearing the very familiar "like a good neighbor" jingle sung during the movie!
On a scale of one to four stars, how would you rate this film?
★★★1/2
Was the message/theme of the film clear?
Amid the intense car racing and secret agent spy adventures, friendship and home is where the heart is. Hopefully the friendship between Tow Mater and Lightning McQueen will show children that being a loyal friend is far more important than a car race and having endless fans at your disposal. Although the end is quite predictable, it's fun to watch as the villain is exposed and the heroes are recognized.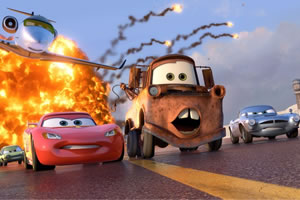 Did you identify with any of the characters?
The qualities and situations that both McQueen and Mater are placed with can relate to everyone. There are times when McQueen becomes embarrassed by Mater and his lack of public appearance etiquette. You can't help but feel empathetic toward Mater as his below average IQ misguides him. The humor sets in as his lack of intelligence is mistaken for intentional spy tactics setting the undercover plan in action.
Did it remind you of any other work in film?
The film did have some similarities to Mission Impossible, James Bond and Fast and the Furious. Although the film may have snagged some uniqueness from those films, the quality of the animation was amazing. Pixar never disappoints as it uses precision in developing the most crisp quality animation anyone has seen!
To whom would you recommend this movie?
It is a great family film, and I would recommend it to all ages! I would not be surprised if you get sucked in as the humor and adventure sets in.
Would you buy this movie when it comes out on DVD?
Definitely! I am sure my son will demand to have it and watch it over and over. If it is like the first version, there will be jokes that I will catch the third or fourth time watching it.
On a different note, what's new with you?
I am the statewide agency recruiter for State Farm Insurance, which has allowed me the opportunity to do more frequent inter-island traveling. I love to spend quality time with my family. Time flies by quickly, and before I know it my son will be in college! Having movie nights as a family is a highlight for us and I am so thrilled to have shared it with everyone reading.
Most Recent Comment(s):