Wednesday - November 29, 2006
By
.(JavaScript must be enabled to view this email address)

Movies Showtimes
Share

Casino Royal
Ron Mizutani
Anchor/Reporter KHON2
As Told To Melissa Moniz
Where and with whom did you see the movie?
I saw the movie at Ward with my wife and my children.
Overall what did you think of the movie?
I thought it was awesome. I'm a big James Bond fan, and I've seen most of them through the years. I had kind of high expectations because I've seen all the 007 movies with Pierce Brosnan and Timothy Dalton. When I went there it was incredible. I enjoyed it immensely.
How do you think it compared to the other Bond movies?
I enjoyed it a lot. His character with Daniel Craig was different. I mean, he had that Bond charisma and charm, yet this guy was rugged, and I've got to admit, like my wife said, he looks pretty good on the beach. He's a good-looking guy, yet he was vulnerable and he made mistakes.The action is typical style, but there was actually more acting than there was action.We didn't get lost in all that Bond girl stuff. It was more acting, which I enjoyed more. I'll take acting over the special effects. So he was good, really, really good.
Daniel Crag had big shoes to fill and lots of pressure to sort of uphold the Bond persona. Do you think he met the expectations?
Absolutely. It was a different Bond, though. After Roger Moore and between Timothy Dalton and Pierce Brosnan, I kind of lost it. I think a lot of people did. And he was a different Bond. He was vulnerable, he fell in love and made mistakes. I enjoyed it.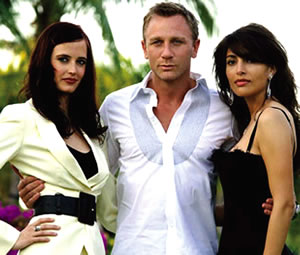 In terms of looks, was it easy to associate Daniel Craig with Bond because he didn't have the characteristic dark features?
It didn't phase me one bit. I didn't even think twice about it.
What was your favorite scene?
The action parts of the movie were cool, and special effects, but there weren't too many gadgets that we usually get in the Bond movies. So I liked when they were just sitting and playing cards, and it was just acting at its best. And that's what I enjoyed about the movie was the acting that Craig provided. Some people may differ in their opinion because they want the gadgets, they want the Bond girls and the action, but I enjoyed it more with this guy because he could flat-out act. So that one scene where they were sitting down playing poker, it was intense, but without all the bells and whistles. It was just pure acting, and it was awesome.
Did the movie leave you hanging at the end, or did it give you the impression that there's going to be a sequel?
Oh, there's definitely going to be a sequel. In my opinion, I think Bond is back, although the last action scene was a little overdone and I didn't quite get it. But at the very end you just know that he'll be back. And what I found so amusing about this movie, and I hope this doesn't give it away, is that I'm waiting during the whole movie for him to say the line and he doesn't say it till the end. It's almost his last line, but the other movies that's all you hear,"My name is Bond, James Bond."And then you didn't hear the music until the very end, which was very different, too. So they really went out of their way to make this character different.
Do you think this is a movie that anyone can appreciate, even those who aren't big James Bond fans?
Absolutely. It's a good movie. It's got all the action and great acting. We haven't really seen good acting in Bond movies since Connery. There was something different about this guy. I think Daniel Craig was the perfect Bond.
In a four star rating, with four being the highest, what would you rate it?
I like every movie I watch. I would say a real close , so maybe three and 1/2 stars .
What's your favorite movie snack?
Buttered popcorn and whatever kaki mochi my kids leave me.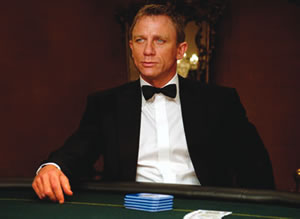 Would you consider yourself a big movie buff?
Kind of. We don't go to the movies as much as we did in the past, with children and everything, but we love movies.
What's your favorite movie of all time?
Scarface. I watched that probably like 50 times. I can recite, like, all the lines.
Who is your favorite actor/actress?
I would say Pacino and DeNiro. Oh, and I like Tom Hanks, too.
What's new?
Family is keeping me busy. I've been here at Channel 2 now ... November makes 21 years. I'm still loving my job very very much. I am still co-anchoring the 5 'o clock news with Leslie Wilcox and reporting every day, which I love immensely. I could never just be an anchor because I just love reporting and getting out in the field.That's the part of my day that I enjoy the most - 21 years and I'm not tired of it at all. I am grateful that I have this job.
Next week: a new movie, a new celebrity
Most Recent Comment(s):