Wednesday - August 11, 2010
By
.(JavaScript must be enabled to view this email address)

Movies Showtimes
Share

Todd Robertson
President and CEO, Hyperspective Studios
as told to Chris Fleck
Where and with whom did you see the movie?
I saw the movie at Ward Consolidated Theatres with my girlfriend and her 9-year-old son Sky.
Overall, what did you think?
I thought that it was very entertaining for kids, probably between 7 and 12 years old. Personally, it wasn't a film that I would see on my own, but that is why we brought Sky, and he loved it.
On a scale of one to four stars, what would you rate this film?
I would give the movie ★★ 1/2 for kids.
Without giving away the ending, what was your favorite scene?
Between me and Sky, we really liked when the dogs were covert spies who spoke English when humans were not around. It was funny to see them revert to their defaults as dogs, sniffing each other and doing other dog activities as soon as humans were around.
What did you think of the cinematography?
The visuals and animation were a bit rough. The movie had to rely on the dis-belief and innocence a kid possesses.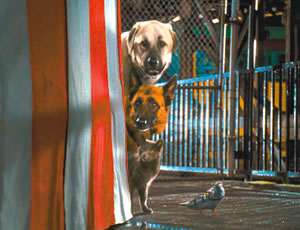 Was the message/theme clear?
Oh, yes, it was pretty simple, good guys versus bad guys.
Did it remind you of any other work in film?
Yes, actually it was kind of a spoof on James Bond. It had a James-Bond-meets-Austin-Powers-meets-Hotel-for-Dogs type of feel to it.
Who would you recommend this movie to?
I would recommend the movie to anyone with kids, because I think kids will thoroughly enjoy it.
On a different note, what's new with you?
My company and I are currently developing an educational video game, with the basis surrounding renewable and reusable energy. We are heavily involved in programs with kids promoting both of those energy sources. The game is actually being modeled after Hilo. We are really proud of the development and cannot wait for it be finished.
Most Recent Comment(s):