Wednesday - January 17, 2007
By
.(JavaScript must be enabled to view this email address)

Movies Showtimes
Share

Children Of Men
Dan Meisenzahl
KITV-4 Morning Anchor
As Told To Melissa Moniz
Where and with whom did you see the movie?
I went to Ward Theatres with my wife.
Overall, what did you think of the movie?
I thought it was excellent, but if you want to go to a movie that will make you feel good and happy, this is not the film to see. It was really well done, though.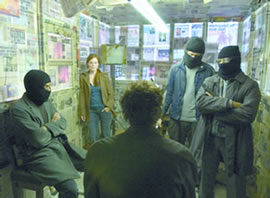 Did you have a favorite scene in the movie?
There was this one scene where the camera didn't stop rolling, and it's a battle scene, like a war scene, with tanks.They follow the main actor, Clive Owen, for like five or six minutes and things are exploding around him, and he's running to this bus and shots are going over his head. It was just incredible. It was so realistic.
Aside from that scene being realistic, in your opinion was the storyline realistic?
Well, you know, it's a futuristic thriller and so it happens like 20 years from now, and it really touches on a lot of issues that are going on in the world. But I hope it's not realistic. We're in trouble if it is.
Did the whole concept scare you into thinking that the world may end this way and we need to do something to prevent it from happening?
Yeah, it gets you thinking. But the real premise of the movie is women can't have babies anymore and the prospect of the human race dying off.They can't figure it out, but all of a sudden there's no babies anymore. And so the movie opens up with the death of the youngest person in the world, who is like 18, and everyone was crying and really upset about it because they have been going through this for several years already.
So how would you rate the acting?
It was phenomenal. They all had British accents, so maybe there was poor acting and I couldn't really tell. It was really good, it was really good.
Is this a movie that you would see again?
Yeah, I would see it again.
What type of audience do you think would enjoy this film?
Well,definitely not for the kids, that's for sure. It's very, very violent. But if you like action and things dealing with current events and things going on in the world, you would enjoy it. Definitely a thinking person's type of film.It's thought-provoking, for sure.
What was your initial reaction to the movie when leaving the theatre?
I was kind of a little stunned, to tell you the truth. It took a couple of hours for the movie to sink in. I wasn't even sure how I felt about the movie at first.The more I thought about it, it was like wow, that was really amazing. And some of the scenes - one scene actually made me jump.There was this motorcycle chasing this car and the car was driving backward, and it was just so incredibly realistic because this one thing happened and I just jumped in the air. It was almost unsettling.As I get older I don't really like serious movies anymore because life is serious enough, but this movie was really, really good. I was impressed.
In a four star rating, with four being the highest, what would you rate it?
I'd give it four stars.
Would you say that this is the best movie that you've seen in the past year or so?
No, no.This year it's the best film I've seen. I would say, though, that this is one of the three best films that I've seen in the past year or so. It's definitely up there. It was an original idea and it was so incredibly well done.And the acting was unreal.
What's your favorite movie snack?
I have to go with popcorn with mochi crunch.
What's your favorite movie of all time?
That's a tough one. I really enjoyed Pirates of the Caribbean, Princess Bride
was really good, and the Lord of the Rings films and Star Wars. I saw Star Wars 11 times at the theatre, and that was really the first time I was really mesmerized by a film.
Who's your favorite actor or actress?
Right now my favorite actress is Keira Knightley. As far as actors, I've always liked John Cusack.
What's new?
Just waking up at 1 in the morning and doing the KITV morning show. My top priority is doing the news and the traffic and weather,and after we get that out of the way we try to relax and have a little fun.
Next week: a new movie, a new celebrity
Most Recent Comment(s):