Wednesday - April 14, 2010
By
.(JavaScript must be enabled to view this email address)

Movies Showtimes
Share

Louis Kealoha
Police Chief, Honolulu Police Department
Where and with whom did you see the movie?
I went to Kahala with my wife Kat.
Overall, what did you think?
I liked it. It was good. I mean, my wife and I talked about the storyline - it was fairly simple, and it could've gotten deeper and more complex, but I liked what they did with it overall.
On a scale of 1-4 stars, what would you rate this film?
I'd give it ★★★,but my wife saw the original and said it was a bit different, so she didn't like that it strayed from that so much.
How was the acting? Did anyone stand out?
I think the main character, Perseus (Sam Worthington),stood out,but one thing I looked at was how the characters were all in top shape. That was impressive all around.
What about the cinematography? Was it impressive?
I really liked the special effects and the graphics. Sometimes I think they (the effects) were so overwhelming, though, that you kind of forgot the story.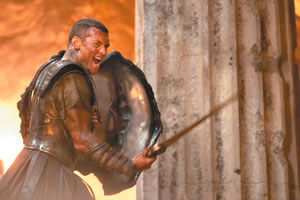 Was the storyline easy to follow?
I chose not to get too in depth and too complex with the film. For me, it was basically that Perseus's parents are killed by Hades and he wants revenge,so he goes to war against him. But on a deeper level, it could get into religion and family issues as well.
Did the soundtrack contribute significantly to the movie?
The music was good. It made it exciting, and definitely without the music you would-n't get the emotion and the impact.
Without giving away the ending, what was one of your favorite scenes?
I liked the scene with the Kraken when it came out of the sea. When they said
"Release the Kraken," I was like, "Oh, boy, what is this going to be?"
To whom would you recommend this film?
Well, my daughter is 10 and she didn't want to see it because it looked too scary in the previews, so I'd say it's best for ages 13 and up. There's just too many monsters for little ones.
Would you buy this movie on DVD?
It was worth watching,but I don't think I'd go out and buy it.
On a different note, what's new with you?
The police department is continually reaching out to the community to work together to make this the safest city in the nation to work and play. One high-profile event we're working on, though, is the Asian Pacific Economic Cooperation event coming up next November, so we're gearing up for that.
Most Recent Comment(s):