Wednesday - January 30, 2008
By Kerry Miller

Movies Showtimes
Share
Where and with whom did you see the movie?
I saw it at Ward with a friend, and we both enjoyed it.
Overall, what did you think?
We thought it was really good. It kept my attention; it was definitely stimulating. It was a good film. I heard a lot of interesting comments in the theater at the end of the film, from "I need Dramamine," to "Holy crap."
Cloverfield was filmed like a documentary. As someone who works in film/television production, what are your thoughts on that? Do you think was an effective way to tell the story?
It comes on and it's like you're watching somebody's handy-cam at a party. It's a going-away party,and one guy is going around getting comments from everybody,(then) there's an earthquake and the movie starts. At the end you realize you're the guy who found the tape.You don't really know what happens - the screen goes blank, it's pretty intense that way.It's pretty shaky at the beginning,the whole thing's pretty shaky. In a sense it's pretty realistic, the entire thing you know you're watching this dude and going around the city.The beginning is kind of slow. Once you realize it started it really pulls you along.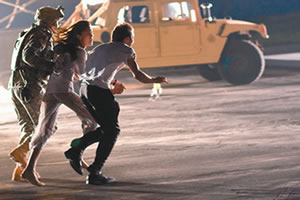 Considering the way the movie was filmed and the storyline, did one or the other carry the movie? Was it only engaging because of the story or the cool camera angles?
I think it was more a novelty the way the film was done. It was interesting and good to watch. As far as doing a film that way, I don't know. It was real in the sense there was a guy walking around with a camera. It works for the nature of the story.It's effective in telling it the way they wanted to tell it. They did a good job of putting the story together. They built all the characters, the relationships with them, and you get all excited for the hero. The love story was weak, (but) the action was good and it really did pull you in. It was a neat concept.
What about special effects, anything cool?
The special effects were really well-done. In a sense, you think you're watching somebody's handy-cam and then you see this 300-foot monster.They did a good job of making it look like part of the experience.
Cloverfield seems to be one of those end-of-the-world-type movies, which there seems to be a lot of lately. How does this rate in that category? Was it entertaining or more like totally preposterous?
It was definitely more entertaining.It was just basically set in Manhattan and it was quarantined off, similar to I Am Legend.There was a giant monster that spawns little monsters. They attack.After (the people) come under attack,the main hero realizes the girl he is in love with is on the other side of town, so he and his friend make their way to save her in this building. It's their experience to get from one end of New York to the other.It was kind of a weird ending, really abrupt. That's the idea (because) there wouldn't have been anything after that if you found someone's tape.
What about the acting? Did anyone stand out?
I thought the acting was pretty decent. I didn't think it was cheesy at all. It seemed pretty real. It had funny (parts).
On a scale of 1-4 stars, what would you rate this movie?
I'd give it ★★★★. I wouldn't go see it for the love story, mostly for the action and the drama and the idea that it's such a unique film.You may have seen something like it before, but as far as the way it was done, it was unique. I'd watch it again.
To whom would you recommend this movie?
I would say it was almost fun in the sense that I enjoy infinite films - it kind of seems like something that anyone could go to.You completey forget that you're watching a handy-cam.You're just trying to get away from the monster.
Favorite movie snack?
We had nachos (while watching Cloverfield).
What's new?
I'm working on sort an off-the-grid-project, and right now I've got a bunch of little stuff. I do a lot of freelance. I work with Jerry Caloroso (Jerry works for Molten Media), so pretty much the stuff he's working on I usually have something to do with it.
Next week: a new movie, a new celebrity
Most Recent Comment(s):