Wednesday - March 19, 2008
By Kerry Miller

Movies Showtimes
Share

College Road Trip
Bob Hogue
MidWeek columnist and co-host of Da Sports Guys on KUMU AM radio
As Told To Kerry Miller
Where and with whom did you see the movie?
I went by myself and to Dole Cannery Theater for a Saturday afternoon matinee.
Overall, what did you think?
It was kind of silly, but watchable.
You recently took your own daughter to visit colleges. Did you see any similarities between your experience and the father and daughter in the movie?
We have three daughters who are either in college or who are going to college. We've gone through that situation.There is some truth to the film that sometimes there are conflicting agendas going on between parents and their children. I can relate to that. It's a great bonding experience. There's funny moments and revealing moments,that part of the film was true.There were a lot of other silly things in the movie, silly characters and all that, but that's another story.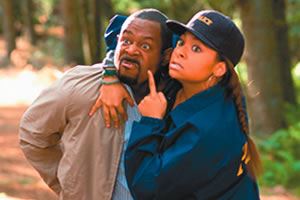 Was there any overall theme or message about the movie, like specifically about letting your kids go off on their own?
I think that the overall message besides the silliness and the comedy is that young people can learn from their parents, but parents also need to recognize that this is a life-changing experience and they need to allow children to grow.
What about the acting? Did anyone stand out?
Donny Osmond saved the movie.I know that sounds shocking. Donny Osmond has a character in there as an annoying father taking his own daughter (to see colleges). Every scene he's in he steals the movie, every bit he was in was absolutely hysterical. He literally has a campy,over-thetop part.It's like you've met people like that, they're so cheerful, they're loud and yet they've got a certain charming quality to them. He did a great job.By the end it came together there were touching,charming and funny moments.
I love comedies and heartwarming movies. There were some especially silly parts in this that weren't exactly redeeming. Martin Lawrence is watchable,he's easy to laugh with or to laugh at. Donny Osmond, he was hysterical.
To whom would you recommend this movie, other parents with college-bound teens?
It's very hard to recommend the movie. It's watchable.Would I pay money to go see it again? No.
On a scale of one to four stars, what would you rate this movie?
★★.

What's your favorite type of movie, and why?
I like romantic comedies, I like dramas.I'm a real big movie fan.I don't necessarily look for a type.Oftentimes I look for an actor or actress who I liked in another movie. I love old movies. I've always been a huge movie fan.I know what I like and what I don't like. If a movie isn't my cup of tea, I just pick up and leave.
Favorite movie snack?
Every time I have Coke and buttered popcorn.Unfortunately,I probably like it too much. (laughs).
What's new?
You can tell everybody that you caught me traveling as the commissioner of the Pacific West Conference.I'm traveling now,visiting schools trying to recruit into the conference. (Afterwards) I'm on my way to the NCAA regionals and on my way to NCAA nationals in Springfield,Mass.,-the birthplace of basketball. I'm a big basketball fan,so it's a great month.The Pacific West Conference is a NCAA Division II conference including HPU,BYU-Hawaii, Chaminade, UH Hilo and four Mainland schools.
Next week: a new movie, a new celebrity
Most Recent Comment(s):