Wednesday - August 31, 2011
By
.(JavaScript must be enabled to view this email address)

Movies Showtimes
Share

"Big Koa" Anderson
Radio Personality, 93.1 The Pa'ina
Overall, what did you think?
I thought It was a good movie, right combination of blood and action you would expect to see in a movie with barbarian in the title.
On a scale of one to four stars, how would you rate this film?
★★★
Was the message/theme of the film clear?
I think so ... capture the flag, save the damsel in distress while causing chaos with an overly BIG sword.
How did the movie compare to the original?
Kind of hard to compare ... It's been a very long time since I've seen the original, and I found myself getting my memory of the movie mixed up between original Conan and Red Sonia, but definitely a lot more action.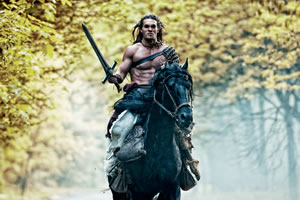 What does this film represent as far as local actors in this case, Jason Momoa making a mark in Hollywood?
I think It was pretty cool to know that Jason Momoa (of Hawaiian ethnicity) was playing the leading role in a very big movie. I hope there are more to follow in his footsteps.
Did it remind you of any other work in film?
Hmmm ... Lord of the Rings, The Scorpion King and Pirates Of the Caribbean.
To whom would you recommend this movie?
Definitely not one for the kids. But, if you like head-bashing brain-matter splatter, then this one's for you.
On a different note, what's new with you?
You can check me out on your radio Monday through Friday from 9 a.m. to 2 p.m., skankin' up the best reggae for your workday on 93.1 Da Pa'ina (Hawaii's Reggae Station). Also, catch me Saturdays from 2 to 7 p.m. on 102.7 Da Bomb, and hosting at the best party spots like Dave & Buster's for the longest running party on a Wednesday night with my party partners DJ's Jimmy Taco and K-Smooth in the mix.
Most Recent Comment(s):