Wednesday - October 21, 2009
By
.(JavaScript must be enabled to view this email address)

Movies Showtimes
Share

Jean Asato
Guest Relations Supervisor
Waikiki Beach Marriott Resort & Spa
Where and with whom did you see the movie?
I went to Consolidated Theatres in Mililani Town Center with my husband, Gary.
Overall, what did you think?
It was a really nice feel-good movie. It really made us laugh and realize the true importance of having "couple time" in a relationship. And what better place than Bora Bora to work on that, you know? (laughs)
What about the acting? Did anyone stand out?
I really loved the few brief but hilarious parts with the little kids. I also loved Malin Akerman's character (Ronnie) and Vince Vaughn's character (Dave) because they just seemed to have a truly real relationship. I feel that a lot of couples really go through what they went through in the movie these days, what with all of our busy schedules and everything. It just was very realistic.
Did you feel that you could relate to any of the characters personally?
I did! I felt like what I go through with my husband and being so busy and all was so much like Malin Akerman's character struggles. Communication is just so important!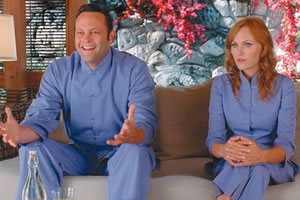 On a scale of one to four stars, what would you rate this movie?
I would say ★★★, because, for me, it was just overall a real feel-good movie.There were a lot of parts where we laughed out loud, and it was just wonderful and funny to watch.
To whom would you recommend this movie?
I would definitely recommend this movie to couples.I think that those who have been together for a long time can really relate to this film.
Without giving away the ending, what was one of your favorite scenes and why?
I don't want to say too much, but the scenes in the store with the display toilet and the little boy are hilarious. Also, people should definitely stay through the end credits. They will be glad they did!
Would you buy Couples Retreat when it comes out on DVD?
I would buy it because, for me, the scenery in the movie reminded me of my vacation to Bora Bora. It made me want to go again!
On a different note, how often would you say you go to the movies?
We have a 16-year-old daughter, so we go maybe once or twice a month.That's only because the rest of the time we're driving her all over the place!
What was the last movie you saw in theaters?
Oh! I saw that Tyler Perry movie, I Can Do Bad All By Myself. It was excellent.
So what's new at the Waikiki Beach Marriott Resort & Spa?
We'd like to invite everyone to come down and have their own "Couples Retreat" with us, families included, and enjoy our resort and the kamaaina specials we have to offer. We also currently have 50 percent off of our starters from 11 a.m. to noon and from 9 to 10 p.m. at the Moana Terrace on the third floor of Kealohilani Tower. Just give us a call and come on down!
Most Recent Comment(s):