Wednesday - August 17, 2011
By
.(JavaScript must be enabled to view this email address)

Movies Showtimes
Share

"Hawaiian Ryan" Matsumoto
Radio Personality/Photographer
Where did you see the movie and with whom?
Ho, so niele, MidWeek. I saw the movie at Consolidated Ward 16. If you must know, I did convince a girl to go with me (I had to promise to watch The Sisterhood of the Traveling Pants with her later, grrrr).
Overall, what did you think of the movie?
I'm a dude. I thunk it was awesome. James Bond and Indiana Jones joining forces with a bunch of nameless peeps to fight super Samoan-sized aliens with green blood and a fetish for gold (apparently, the whole universe is feeling this recession). What's not to love? It's classic Spielberg formula: 1) Aliens have long fingers and are slimy. 2) You don't get a clear shot of the aliens until you're pleasantly annoyed. 3) And, somehow, you crave Reese's Pieces the whole movie; it's weird.
On a scale of one to four stars, how would you rate this film?
I love un-chick flicks as much as the next un-chick, but really?
Nobody gets to sleep with Olivia Wilde? I have to minus at least one point for that. ★★1/2.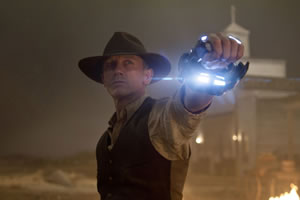 Was the message/ theme of the film clear?
Yes. We must stop fighting illegal aliens and join forces with them to fight the real aliens, who are not as willing to work for minimum wage.
Did you identify with any of the characters?
Yes. I identified with the aliens. Poor things were just trying to take over the planet, and yet there's so much hater-ade on both of our Facebook pages. We're just misunderstood.
To whom would you recommend this movie?
Definitely not any aliens.
Especially not alien kids under the age of 13.
mbed="elements/google_ad336x280"}
Would you buy this movie when it comes out on DVD?
No. And, DVD piracy is bad. I would never get a copy from Chinatown, if that's what you're implying.
Changing gears, what's new with you?
Taking over the planet, Monday through Friday from 6 to 10 a.m. I'm on the Sam and Ryan Show on 102.7 Da Bomb. I also have a videography/photography business (Hawaiian Ryan Productions) where I, too, get to shoot folks in the face, only with my camera instead of a pistol. Check out Facebook.com/SamandRyanShow, Vimeo.com/HawaiianRyan and 1027DaBomb.net for more information.
Most Recent Comment(s):