Wednesday - February 15, 2006

Movies Showtimes
Share

Curious George
Movie Review with The Hagi Family
Kim Gennaula and Guy Hagi of KGMB9-TV with Luke and Alia
As Told To Terri Hefner
Where and with whom did you see the movie?
We watched the movie with our two toddlers, Luke (3 ) and Alia (2). We were thrilled to see Jack Johnson checking out the premiere as well - just a few seats away.He wrote all of the music for the film and his laidback, somewhat whimsical sound is a perfect match.
Overall, did you both like the movie?
It's a fun, nostalgic trip for adults who grew up reading the book.They did a great job of creating animation to match H.A.Rey's artwork from decades ago. But the story line wasn't gripping for adults. It was more like a long format cartoon.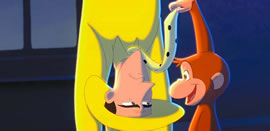 Favorite scene(s)?
It's hard to pick a favorite but there were at least three or four scenes where George's shenanigans made our kids laugh out loud,and we love any scene that can do that.
To whom would you recommend this film?
It's a good family film.Even for the very young ones. Our son watched intently from the start to finish. Our daughter got fidgety after the first hour.
In a four star rating,with four being the highest, what would you both rate this film?
Jack's music gets a 4, the film a 3.
Would either of you say this is a good "family film?"
Perfect family film.Nothing for parents to worry about at all.
How often do you guys go to the movies?
Are you kidding? With two little kids! Let's just say that Curious George on a Saturday afternoon was a big movie date for us. (ha ha!)
Favorite Actor/Actress?
Kim likes Vince Vaughn and Viggo Mortensen. I like Madeline Stowe and Chow Yun Fat.
What's new with you two?
With two toddlers, every day is a new adventure.They're both in swim class,so surfing is just around the corner.
Another adventure we're on is our home renovation. It's a 60-year-old house and we're trying to do things to preserve the feel of it while trying to bring in some modern touches. It's so rewarding, but oh-so-tedious.
And again,with two kids things are always more complicated.
Most Recent Comment(s):