Wednesday - June 03, 2009
By Kerry Miller

Movies Showtimes
Share

Cindy Ramirez
Actor and student at the Laughtrack Theater
as told to Kerry Miller
Where and with whom did you see the movie?
I saw it at Dole Cannery with my friend Darlene Rodrigues.
Overall, what did you think?
I was really entertained. It was pretty funny.
Were there any notable actors you recognized?
All the Wayans brothers, with Damon Wayans Jr. as the lead, and he's pretty much a dead ringer for one of his brothers. Needless to say the comedy runs in the genes. It was entertaining.
Did you like Damon Wayans Jr.'s performance in the movie? Is he as good an actor/comedian as his brothers?
He was good as an actor.
It's a spoof. It just begs for physical space comedy and body comedy that flips into something unexpected, and he does it very well.
As someone who is familiar with the comedy world, how funny was this movie, in your opinion?
It is funny if you know what they're making fun of. I thought a lot of it was funny because I knew what they were referencing. There were other parts where Darlene was like 'you don't know, it was from that movie' and I was like,'oh.' I think the whole movie is not actually original. It's like pieces of other movies rolled into one.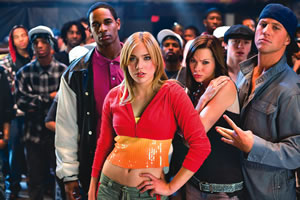 Were you impressed with the dancing in the movie, or was it more about the comedy?
I actually thought there was going to be a lot more dancing. I was surprised that there were maybe about four or five major dance scenes. I was ready to get my hip-hop dance fix going on. It was mostly about the Damon Wayans Jr. character and the female lead Shoshana Bush, about their relationship and about them in high school. Also, his other life in the gang world and trying to make money for Sugar Daddy.To make money they did the dance off at the end. It's kind of like a teen movie with some dancing sprinkled in.
Did you have a favorite scene or character?
The sister of Damon Wayans Jr.'s character,Thomas. She's like the older sister who's also a dancer and she has a baby, and there's drama with her and the baby's daddy. She's a funny actress. I enjoyed watching her.
On a scale of one to four stars, what would you rate this movie?
I'd rate it ★★ 1/2.
To whom would you recommend this movie?
People who like spoof movies and who have a higher threshold of gross factor for humor. There were some parts that were kind of gross, but they really were funny.
What's new?
I've recently gotten into the improv scene out here through Laughtrack Theater. Laughtrack Theater is pretty much the only place to watch long-form improv. Shows are every Friday and Saturday at 8 and 10 p.m. On first Fridays we have shows every 45 minutes. Two teams have been added to the performing marquee, Hot Property and Chocolate Squirrel. Improv classes at Laughtrack are open to anyone who's interested. For more information, go to www.laughtracktheater.com.
Most Recent Comment(s):