Wednesday - April 21, 2010
By
.(JavaScript must be enabled to view this email address)

Movies Showtimes
Share

Where and with whom did you see the movie?
I saw it at Ward with my wife, Adrianna.
Overall, what did you think?
It's not going to win an Oscar or anything of that nature, if that's what you're asking. There's humor in it, you know, moments that are funny, but I wasn't blown away.
On a scale of one to four stars, what would you rate this movie?
One to four? ★★ 1/2,just because in between funny situations there was too much down time.We enjoyed it, but by the end it just seemed a little long in the tooth.
What about the acting? Did anyone stand out?
The main characters (Steve Carell and Tina Fey) had a nice rapport between one another and worked well together, but sometimes the comedy was so slapstick that the only reason you're laughing is because it's so extreme.They had great on-screen chemistry,and I understood the emotions of a husband and wife who have been together for a while.
So how was your date night?
Well, like I said, I'm married, and it was a date night, but I found it funny how sometimes you go to a movie and the directors try to remind you how important love is in your life. It just makes me wonder: Why do you have to go to a movie to realize that? We went to Side Street Take-Out & Grill and Dave & Buster's as well, so we had a good time,and would have with or without the movie.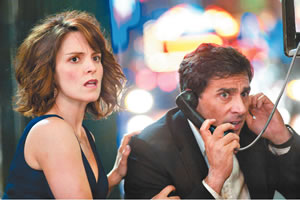 Sounds like the previews hyped it up a little too much.
You know, it had a little more substance than the previews. Sometimes you watch previews and that's all there is to the movie, so at least it was a little more in depth than that.
Did it remind you of any other work of film?
I thought it was kind of in its own ballpark. It was original enough that it wasn't copying something I've seen before.
To whom would you recommend this movie?
I'd recommend this to younger couples who have been together about three to five years or so; who have been together long enough to have developed their own routines. They'll get it.
Where do you think people should spend their date night?
Well, a great place to start a date night is Wolfgang's Steakhouse's Happy Hour,offered daily between 4 and 6:30 p.m.We've got great drinks and $5 pupus, so come start your evening with us.
Most Recent Comment(s):