Wednesday - March 15, 2006
By
.(JavaScript must be enabled to view this email address)

Movies Showtimes
Share

Dave Chappelle's Block Party
Movie Review with Gina Garcia
KSSK Newscaster/Reporter
As Told To Rasa Fournier
Where and with whom did you see the movie?
Dole Cannery Theatres with my beautiful best friend,Anita Arriaga, her boyfriend, and the lovely MidWeek columnist Roz Makaula.
Overall did you like the movie, and why?
No, I didn't really like the movie. It started off slow and some parts were kind of boring. I'm not really a big fan of rap music, and the movie is about a block party focused on rap stars performing. There was less of an emphasis on the comedy of Dave Chappelle, who I'm really a fan of. That was disappointing.
Did you have any favorite scene(s)?
Dave Chappelle did some really good jokes, but they're kind of X-rated, so I'm not going to mention them here.Toward the end of the movie Wyclef Jean who is, I guess, one of the singers of the Fugees ... he was lecturing several college students and he was telling them, "There's no need for you to blame the white man for anything. You go there and you get educated." I thought what he said made sense. I think it's true, so I'm glad he was the one to say something like that.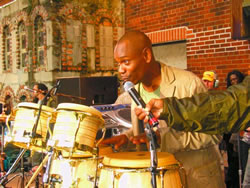 Dave Chappelle's Block Party
Did you have a favorite character?
Dave Chappelle for sure, even though there were just little snippets of him doing a joke here and there and interacting with people in his town. He was my favorite character in the whole film, of course.
What were the best and worst aspects of the movie? Why?
The best was Dave Chappelle meeting people in his town in Ohio. He kind of had some funny exchanges with them. The worst would be some of the rap performances because I'm not quite familiar with a lot of the rap stars he features. That part was kind of boring for me.
Was there a particular message it tried to get across?
I think the message was just to feature these rap stars whom he has a personal as well as a business relationship with. He wanted to bring people together from all walks of life - not just the black community - in Brooklyn. I guess they didn't have a big block party in Brooklyn before and he wanted to do that and share that with the community there.That was kind of nice.
Did it have a good soundtrack?
If you're into rap music I think it'll be a really good soundtrack, but I'm not the best person to ask on that subject.
In a four star rating, with four being the highest, what would you and your companions rate this film?
One and 1/2 because we are not fans of rap music.
That's the only reason why.
What is your favorite movie?
Finding Neverland because it stars Johnny Depp, who is my favorite actor. I'd see any movie with Johnny Depp in it.
What genre of movies do you like?
I prefer action films, preferably kung fu.
Do you like Jackie Chan?
Yes, I do. He's one of my favorite action fighters.
Do you have a favorite actor/actress?
There's only one and that's Johnny Depp.
Who is your favorite movie buddy?
My best friend, Anita.
What's your favorite movie snack?
Popcorn with lots of butter and salt.
How often do you go to the movies?
Not quite often because I prefer to watch independent films and kung fu movies, and there's not too many of that out there.
Anything else you want to say about the movie?
If you like Wyclef Jean, the Fugees, Kanye West, Roots, Mos Def, then that's the movie for you to see because a lot of the performances feature these rap artists.
What's new with you?
I'm looking forward to my trip to Italy later this year. I enjoy traveling and my mission right now is to go to certain places that I want to see before I get too old and wrinkly.That way, when you take pictures, you look good still (laughs). After Italy, I want to go to France and go and stare at the Mona Lisa painting, and after that I want to see the pyramids in Egypt. Maybe after that I want to go back to Singapore, where I was born, to see how much it's changed since I was there 15 years ago.
Are you traveling for yourself or is this business related?
Oh no, this is strictly for pleasure.
Next week: a new movie, a new celebrity
Most Recent Comment(s):