Wednesday - February 17, 2010
By
.(JavaScript must be enabled to view this email address)

Movies Showtimes
Share

U.S. Navy Aviation Electrician with a Military Spouse on Deployment
Where and with whom did you see the movie?
I went to Koolau 10 Theatres with my friend Kim Robillard.
Overall, what did you think?
To be honest, I already knew this movie would tear at my heartstrings before I even watched it. It hits home in so many aspects it is not even funny. Nicholas Sparks has a phenomenal way of reaching into your heart and making you think.This movie did center on the Dear John letter, but it also took many routes that you were not sure till the end where it was going.I loved the movie from the beginning to the end.
On a scale of one to four stars, what would you rate this movie and why?
I would rate this about ★★★. Although I loved the movie, it felt like the love story wrapped up way too short.
How was the acting? Did anyone stand out?
I absolutely loved the cast.Channing Tatum and Amanda Seyfried had amazing chemistry on screen.Those two alone pulled me so far into the movie that I felt as if I were right there. The emotions they portrayed felt amazingly real.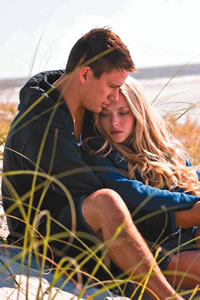 What about the soundtrack? Did it contribute significantly to the film or just fade into the background?
I was so wrapped up in the movie that for me the soundtrack did fade into the background until it came to Amanda's song.It was an unexpected addition to see her performing, and yet to me it only seemed to pull me further into the movie. It felt as if she was literally singing her emotions as Savannah.
Without giving away the ending, what was one of your favorite scenes?
Although this was a love story,I have to say my favorite scenes were with John and his father.It was when John finally realized how much he really loved his father that I had tears streaming down my face.
To whom would you recommend this film?
I would recommend this movie to people ages 16 and up,as well as anyone who loves a romantic movie that involves a soldier and the military.
Would you buy this movie on DVD?
Absolutely! This is a timeless romantic movie and I love romance movies.
On a different note, what's new with you?
Well, I am currently going on my eighth year in the Navy. My husband is currently deployed, and right now I am a single mom while he is away. When I am not working, my son takes up the majority on my time, and I try to stay very active in my husband's command's FRG (Family Readiness Group). To me, this is important because it allows spouses and children to band together while our husbands, wives, mothers or fathers are deployed.
Most Recent Comment(s):