Wednesday - July 21, 2010
By
.(JavaScript must be enabled to view this email address)

Movies Showtimes
Share

T. Dan Hofstedt
Animation Supervisor,
Hawaii Animation Studios
Where and with whom did you see the film?
I saw it at Ward with about seven or so of my co-workers from Hawaii Animation Studios and a few other friends.
Overall, what did you think?
I was pleasantly surprised. It was a very entertaining movie, and I was really encouraged because it was great to see another studio have such a successful film debut that has attracted such a wide and supportive audience. I recognized a lot of names in the credits of people I've worked with in the past, and I was really proud of them. It's always a real encouragement to see another small studio like that succeed.
On a scale of one to four stars, what would you rate Despicable Me?
I'd probably say ★★★1/2. For me, a four-star rating would entail something super epic and classic, and I did enjoy it, but it wasn't quite a four for me. I laughed through many parts of it, though, and overall it was very strong.
How was the animation?
I thought the animation was awesome. It was fun and inventive with good facial expressions and good personality in the characters. It was very well done.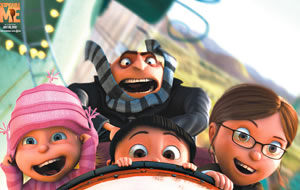 Who/what was one of your favorite characters?
I'd probably say my favorite characters were the little yellow henchmen minions. They were fun to watch. My favorite individual character, though, was the littlest girl, Agnes (voiced by Elsie Fisher). She reminded me of my own daughters when they were young.
Did the soundtrack contribute significantly to the film?
It seemed to play a part. The music and the sound effects supported it really well.The film team definitely used the music to their advantage to build the drama and humor.
Without giving away the ending, what was one of your favorite scenes?
There's a scene where Gru (voiced by Steve Carrell) is reading a story, which is very heartfelt and all for anyone who has had kids and ever read to them, and I found it very charming. My favorite funny parts, though, would have to be the different ways that Gru and his rival evil scientist act when Gru is trying to steal the shrinking contraption.
To whom would you recommend this film?
I wouldn't recommend it for super small kids because there are explosions and things that might be scary for the little ones, but I think ages 7 and up would probably enjoy it. It's not rude and crude like some things on TV are, but there is a lot of action.
On a different note, what's new with you?
I'm the animation supervisor at Hawaii Animation Studios (hawaiianimation.com) and we just finished a couple of direct-to-DVD features for Veggie Tales, but our team of animators in general really varies it up project-wise.We're also working on some prehistoric features and we have a wide range of talent here, most of it being homegrown.
On the side, I play slack key guitar sitting in with different bands around Waikiki, so be on the lookout for me around town.
Most Recent Comment(s):