Wednesday - April 25, 2007
By
.(JavaScript must be enabled to view this email address)

Movies Showtimes
Share

Disturbia
Matty Liu
Events and Promotions Coordinator
As Told To Melissa Moniz
Where and with whom did you see the movie?
I saw it with my best friend in the whole world, Seth Elmer, at Ward Center.
Overall what did you think of the movie?
I thought the movie was pretty cool. OK, I thought it had really cool character development.The first scene in the movie is super strong.It's intense.The beginning of the movie is very realistic and it sets up his relationship with his dad is such a solid way.The scene in the beginning shows them as just one happy family,totally not a dys-functional family. So they get into this crazy accident, which is staged really well.That happens and that set up the rest of the movie. I thought the love interest was cute between him and his neighbor. It's the kind of movie that if you're 16 or 17 years old,then it's going to be very realistic to you and make sense because it touches upon the youth now with the whole online video gaming and what it's like with school. I'm a little older, so I had a little harder time relating, but it was good.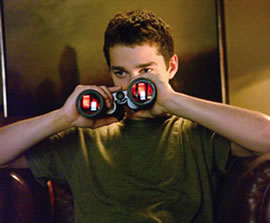 How would you rate the acting?
I would rate the acting definitely a strong B plus, maybe even an A. I think everyone did really well and the characters did really well with their parts. It's totally believable.The villain was excellent and he played that role really well.
Would you say this a fairly original movie, or does it remind you of movies that you've seen in the past?
It's got that beginning,middle,end of a typical thriller-type movie, where they build up the character, then they heighten it with suspense and thrill and then they catch the bad guy type thing. The storyline was solid. They built character and I think that's one of the cool things about the movie - there's a definite art and they don't rush it at all.One thing that kind of bummed be though as a guy coming from Hawaii and having done the Hollywood scene for a little while, one thing that always bugs me is how Hollywood movies always has the white All-American hero and then the Asian side-kick or just the ethnic side-kick.And then they got the white Mandy Moore girlfriend.In the movie his friend was a Korean guy and he was cool and he was funny, but still why wasn't it a Korean family? It's just so typical Hollywood.
In a four star rating, with four being the highest, what would you rate it?
I would say a definite three stars. But like I said,if I was 17 I may have thought it was the coolest movie in the world.
What's your favorite movie snack?
A mixture of popcorn and mochi crunch.
What's your favorite movie of all time?
Hands down it's Scarface.
How often do you go to the movies?
Two to three times a week. I have a lot of time on my hands.
What's new?
Still surfing a lot and working on my events and promotions and just enjoying living in Hawaii.
Do you have any upcoming events?
Basically Friday nights at Lulu's in Waikiki.And also we're starting Saturday nights at a place called Senior Froggies.
It's not open yet, but it's going to be a big bar next to Cheesecake Factory.And I'm doing that with Hawaiian Hurricane, Soljah and myself. It's going to be a full on giant surf party Spanish style.It's starting probably in June. But what's solid is the Lulu's thing right now.
Next week: a new movie, a new celebrity
Most Recent Comment(s):