Wednesday - October 12, 2011
By
.(JavaScript must be enabled to view this email address)

Movies Showtimes
Share

Director of UH Marine
Mammal Research Program
Where and with whom did you see the movie?
I saw it at Koolau Theaters with my son Nathan.
Overall, what did you think?
I really enjoyed it. It gave a good impression of people who care for dolphins. Many put their hearts and lives into it. The movie depicts a dolphin rescue facility in Florida based in an old abandoned and rebuilt sewage treatment plant. We have one of those in Hawaii in Hilo, run by the University of Hawaii at Hilo. We were the stranding group for many years as the Hawaiian Islands Stranding Response Group with Dr. Bob Braun and Marlee Breese, but just couldn't do all that work and all of our research, too, so we gave up the treatment of stranders task and it was picked up by Jason Turner and his group.
On a scale of one to four stars, what would you rate this film?
★★★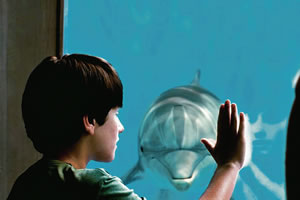 Did any of the actors/actresses really stand out?
I really enjoyed the character of the little girl who played the daughter of the veterinarian and head of the stranding team that rescued the dolphin. She was delightful and believable.
Did you identify with any of the characters?
Well, that is an easy one. Taking care of dolphins and whales is an expensive business, and requires very committed and wonderful people. The expensive part of all that requires constant grantwriting and fund-gathering to keep fish in the animals' mouths and dollars in the people's pockets. It is very hard right now to secure adequate funding. In the movie, the facility is about to shut down due to lack of funding .Given the clamp-down on congressional funding and the difficulty with the economy, we face similar issues.
To whom would you recommend this movie?
Everyone. I particularly like the fact that the people who hold and care for dolphins are seen in a positive light.
What's your favorite movie snack?
Popcorn, Milk Duds and a Dr. Pepper.
On a different note, what's new with you?
We do research on hearing and biosonar with whales and dolphins at the UH Hawaii Institute of Marine Biology on Coconut Island in Kaneohe Bay. We are very concerned about the effects of loud sound on dolphins and whales, and are busy trying to find ways to protect the animals from loud sounds. Last week, along with our visiting colleague from Russia, Alexander Supin, we discovered that if you play a neutral, quiet warning sound before you play a loud sound, our false killer whale will lower her hearing. It's amazing. It's like she plugs her ears but of course she has no fingers and no ear holes. We are also very interested in any animal that strands on the beach in Hawaii. Last summer we got the chance to measure the hearing of the Blainsville's beaked whale that stranded on Maui and was taken to Hilo for rehabilitation. We are very busy trying to drum up funding to continue these kinds of basic research and continue our program.
Most Recent Comment(s):