Wednesday - October 26, 2005
By
.(JavaScript must be enabled to view this email address)

Movies Showtimes
Share

Domino
Movie Review with Chaz Michaels
Assistant Program Director/On-air personality for KSSK
As Told To Katie Young
Where and with whom did you see the movie?
I saw it at Signature Pearl Highlands with my wife Joslin.
Overall what did you think?
It was good.There was action from front to back so it really kept my attention.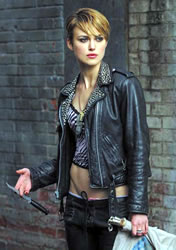 What was your favorite scene?
There was a scene that was pretty funny,maybe not my favorite,but it had to do with a Jerry Springer episode. I don't want to give the whole thing away. Then there was another scene (but if you don't want to know details, stop reading here) where Domino is talking on the phone with her boss, and the cell-phone was cutting in and out and she couldn't really understand him. Because of that miscommunication, he's trying to tell her to take the shirt off of this guy's right arm because the code is there but all she hears is "take off his right arm." So they end up shooting off this guy's arm. I liked it because it was all a matter of miscommunication.Someone lost his right arm because of miscommunication. Kind of like marriages.Just kidding.
Did you have a favorite character?
My favorite character is Domino (Keira Knightley). It was the first time I ever saw her in a movie. I was surprised by her acting ability. For me, it was almost like a Kill Bill meets Dog Chapman. She was very rough and gungho.
How would you rate the acting?
Overall it was great, not once through the whole film did I think "This guy is acting." So it was really good.
How were the special effects?
There weren't really any special effects but the style of the movie was different. It was like a two-hour music video, and some of the camera angles and the overall style of the film were innovative.
Did the movie have a meaning?
It really did. It was action packed and of course there were a lot of graphic scenes,but all tied into a bigger meaning about fulfilling your destiny.
What was the best/worst aspect about the movie? Why?
The best aspects were it started with action and it ended with action. There really wasn't a worst aspect, but if you're not ready for that kind of graphic violence and language, you probably shouldn't go.
Is it a movie that you would see again?
Probably.
To whom would you recommend the film?
Anybody who wants to go out and be entertained.
On a four star rating, with four being the highest what would you rate the movie?
Three and 1/2 stars
What's your favorite movie snack?
Popcorn mixed with peanut M&Ms and mochi crunch
What's your favorite movie?
Back to the Future Part I. I liked the car they used for the time machine. Ever since I was a kid I liked that type of car. And of course, the Doc used to make me trip out because he was so nervous and funny.That's why I always used to like to watch the movie.
How often do you go to the movies?
At best once a month.

Who's your favorite movie buddy?
If I do go, probably my friends and family. My wife would be one, of course, and my friends Kamu and JJ.
What genre of movies do you like?
I lean more toward action because
I'm a guy.
Who's your favorite actor/actress?
Al Pacino because I really like all the Godfather movies.
What's new?

I just got married in September. My wife works for Kapiolani Hospital. And my daughter, Kyra, is 7 years old, and she's really into that TV show It's So Raven. Everything she says and does is like Raven. She animates everything she does.When I'm not spending time with my family, I'm working at the station, hanging out with friends and going to church at Word of Life. I've been working at the station for going on six years now and I love it because it's very flexible and it's always a surprise from day to day.
Next week: a new movie, a new celebrity
Most Recent Comment(s):