Wednesday - September 07, 2011
By
.(JavaScript must be enabled to view this email address)

Movies Showtimes
Share

Jordan Segundo
Professional Singer/On-Camera Host and Actor
Overall, what did you think?
I was disappointed with the movie. The previews make it look much scarier than it actually is. There are very few moments in the movie that will make you jump and squirm, but for the most part, it lacked in substance and definitely lacked in the scare department. The only thing I enjoyed about the film was the scenery and location as well as the impressive performance by the young actress Bailee Madison, who plays the character Sally.
On a scale of one to four stars, how would you rate this film? ★★
Was the message/theme of the film clear?
Yes, the message/theme was to be aware of the little goblin-like monsters in the basement that do not like the light. I personally felt it was a bit cheesy and thought that the lighting, editing and sound design were far more frightening than those little monsters.
Did you identify with any of the characters?
No, there was really no room for character development throughout the movie, therefore it was difficult for me to connect with the characters.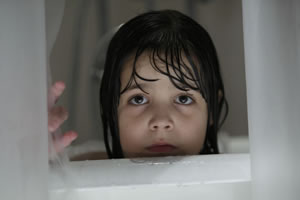 Did it remind you of any other work in film?
The film did have a lot of scary movie clichés, from the creepy old house to the unnerving child whose parents don't believe anything she is experiencing, to the old groundskeeper who tries to warn them about the dangers.
To whom would you recommend this movie?
It's hard to recommend this movie to anyone. If you're looking for a scare, this movie won't do the trick.
Would you buy this movie when it comes out on DVD?
No, it's not a movie I'd want to own on DVD.
On a different note, what's new with you?
I am currently the KHON2 FOX VIP correspondent here in Hawaii. I present a weekly segment every Monday morning on Wake Up Today on KHON2. I give weekly updates and information on the latest FOX TV shows and their stars, as well as cover local events happening right here in Hawaii. I continue to perform in events and concerts throughout the state and on the Mainland. Check out JSegundo.com for more information.
Most Recent Comment(s):