Wednesday - November 02, 2005
By
.(JavaScript must be enabled to view this email address)

Movies Showtimes
Share

Doom
Movie Review with Rob DeMello
Assistant Program Director/On-air personality for KSSK
As Told To Katie Young
Where and with whom did you see the movie?
I saw it at Dole Cannery Theatres with my friend Chad DeCosta. It was "Portagee" night out.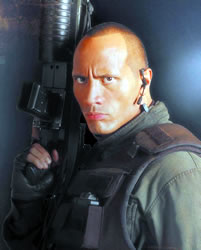 Overall what did you think?
I thought it was awesome. I usually don't watch action movies, but it was pretty intense.
What was your favorite scene?
There's a part where the monster guys first pop out and it scared the crap out of me. I was going to jump into the lady's seat next to me. It was definitely the most memorable moment. The ending was really good too. It was different. But I don't want to give it away.
Did you have a favorite character?
The Rock because he's Polynesian. He could've been in that Gigli movie with J.Lo and I would've liked it. In every true form of the word he's "Bad."
How would you rate the acting?
It was good. I think the thing I liked the most was how different all the characters were. The actors did a good job of portraying all their differences, too.
How were the special effects?
The special effects were unreal. I would suggest anyone who has heart conditions not see the movie. It was really loud - things were flashing in and out of the screen. Every time the monster would appear it would happen quickly and at unexpected moments. The guns were pretty gnarly too.
Did the movie have a meaning?
It was interesting because I never played the video game so I didn't know the background of everything. But I liked it because I didn't know and I learned as I went along. I'm never visiting Mars, that's for sure.
What was the best/worst aspect about the movie?
The best aspect was that it was really intense. I got really into it. My heart was pumping. The worst part was probably the same reason. It might have been a little too intense. When the movie finally let out, I was wired!
Is it a movie that you would see again?
Yeah, but I don't think I'd go to the theater again. If it was on TV or the DVD was cheap I'd buy it though.
To whom would you recommend the film?
The man's man. It has your explosions, blood and guts, loud music and fight scenes.
On a four star rating, with four being the highest what would you rate the movie?
Three Stars.
What's your favorite movie snack?
Every time I go to the movies I get popcorn and I don't like it, but for some reason I still get it. I worked at a movie theater for two years and they told us we could eat all the popcorn and soda we wanted. So for the first year I was like, "OK!" and I think I over-did it. So now I don't like it anymore, but I still have to get it.
What's your favorite movie?
I don't know if I have a favorite movie, but I like all movies that have anything to do with sports or any dumb comedy. I like Anchorman, Dumb and Dumber, Old School ... I'm easily entertained. Anything with sports and comedy, I'm there.
How often do you go to the movies?
Very rarely. I don't go too much anymore. Only a few times a year. I rent a lot of movies.
Who's your favorite actor/actress?
Will Smith. He's hilarious. I liked him ever since Fresh Prince of Bel Air. I liked him in Ali, too, he has a lot of charisma. I also like Angelina Jolie and we don't need to get into why.
What's new?
I'm KITV4's weekend sports anchor. I started in April and was a producer before that.Also, every Friday until Dec. 2 at 10:25 p.m. on KITV, myself and Robert Kekaula are doing "Blitz 4," a program about high school football.We do all the highlights for the games for that day and talk about what's going on in high school football.
Next week: a new movie, a new celebrity
Most Recent Comment(s):