Wednesday - December 20, 2006
By
.(JavaScript must be enabled to view this email address)

Movies Showtimes
Share

Dreamgirls
Jasmine Trias
Singer/Entertainer
As Told To Melissa Moniz
Where and with whom did you see the movie?
I saw the movie at Ward Theatres and I watched it with my little sister, and my agent, Lincoln (Jacobe).
What did you think of your former American Idol cast mate Jennifer Hudson's performance?
I was blown away. I mean,I knew she could sing, but her acting performance and her musical performance just blew me away.I had chills the whole movie and I honestly thought that she stole the show. I honestly thought that she was better than Beyonce in acting and her singing. She was incredible.
Overall what did you think of the movie?
I thought it was excellent. I loved it.
What was your favorite scene?
My favorite scene was when Jennifer Hudson was singing And I'm Telling You I'm Not Going.That scene was my favorite part of the movie.Well, I'm a singer and I focus on those kinds of things, and that part where she was upset about the group kicking her out and replacing her was amazing.Her acting was great and how she ended that whole scene was just incredible.This girl is going to be huge.
As you mentioned Jennifer Hudson's performance of And I'm Telling You I'm Not Going was your favorite scene, but was that also your favorite song in the movie?
Gosh,all of the songs were just great in the movie. I'm seriously going to buy the sound track. All the sounds were great, but I would have to say performance-wise that is a great song and I sing it when I'm in the shower kind of thing. I would say that would be one of my favorite songs.
Were you familiar with most of the songs in the movie?
Oh yeah.Especially the songs that Jennifer sang. She sang a lot of the diva songs that were huge back then.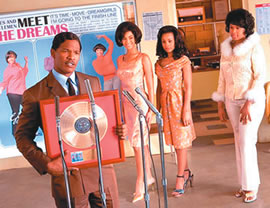 Overall how would you rate the acting?
The acting,I honestly wasn't impressed with Beyonce's acting.I never really was.But I thought Jennifer Hudson did great, and especially because this was her first time. I had to give her a lot of credit for that. Beyonce,she was all right. I mean,you can recognize good acting and bad acting when you see it, even though you're not an actor. And so for her I didn't think she did that great, but of course you had an all-star cast.You had Jamie Foxx, Eddie Murphy, you had Danny Glover, Keith Robinson, Beyonce - so, big names in this production.So the acting was great, but I just wasn't impressed with Beyonce.
In the male roles, who stood out for you the most?
I would have to say Jamie Foxx. He kind of moved the show actually.
What did you think of the storyline?
I thought it was a great storyline. I really enjoyed it, and that storyline and the whole movie really spoke volumes to me because it really depicts what the music industry really is.That is the true side of the music industry and I was like, wow, this is really how it is.
Did you go in with any expectations and, if so, did it hit or miss your expectations?
I really didn't expect much from this movie. I was like OK, Beyonce's in it, OK Jennifer Hudson,well,I haven't ever seen her act before,and Jamie Foxx is in it so it might be good.But you know how some actors have their good movies and their bad movies? I didn't really have high expectations for this movie, but when I saw it I was impressed.I didn't think it was going to be like a musical and more like a movie, and it was like Chicago, and Chicago is one of my favorite movies.This totally blows Chicago out of the water,I think,with the singing and Jennifer Hudson's acting. I know her personally, and to see her on the big screen I was, like, oh my gosh. I had chills,and she got to kiss Jamie Foxx. When that happened I just jumped out of my seat. I was like no way, she got to kiss Jamie Foxx, she got to work with Beyonce and all these great actors.I am just so happy for her, she's doing great for herself.I'm just getting chills just thinking about. She really made a name for herself in that movie and she's going to make it far - this is her big break.
What did you think of the wardrobe and the outfits?
I loved it. I was wondering where they got all that.Was it specially made or what? It really depicted what they really wore and was also modernized a bit because I would wear those outfits.
As you mentioned this movie is a musical. Do you think that only those who love music can appreciate it, or do you think it appeals to anyone?
I think this movie would be appealing to anyone. Probably a lot of people who are interested in musicals would watch it over other movies,but I think since music is huge and universal that anybody and everybody would want to watch this movie.
In a four star rating, with four being the highest, what would you rate it?
Can I rate it five stars?
What's your favorite movie snack?
Oh my gosh, I always splurge at the movies.I'm so terrible.My favorite is hurricane popcorn with some Red Vines and some Raspberry Iced Tea,and maybe some nachos if I'm really hungry.
How often do you go to the movies?
I wish I could say that I go to the movies often, but considering my schedule it's hard for me to watch movies. I usually watch movies on the plane, but I try to watch as many as possible.Usually when I come home I get together with friends and family to watch the new movies that are out.
What's your favorite movie genre?
I hate scary movies.Before I loved them because I didn't really find that movie that scared the crap out of me.After watching The Grudge I couldn't take it. There's something about that movie that just creeps me out.I just couldn't get over that movie for like two weeks. No movie has ever done that to me, that I can't watch a scary movie anymore.But I love all kinds of movies like drama,musicals. Action is all right, but what I really love is those movies that are kind of twisted and really make you think.Those are always fun to analyze.
What's new?
I've just been touring and doing a lot of shows. I just got back from a tour in the Philippines where I did a whole promo tour for the album,and I actually did this mini movie.The movie is like an hour where the artist plays the lead role,and the whole story is around their song,my song,which is I'd Rather.It's kind of fun.It comes out next year,so I can't wait to see it.So I'm getting into a little bit of acting.
Do you enjoy acting or is it pretty challenging for you?
I enjoy it.This my second, Your Song, the show I was just telling you about.The first one was my first acting experience and it was so much fun. And it came out really cute.I'm slowly getting into it.Next year I'm going to moving out to L.A. to really pursue the acting and the music and all of that. So I'm going to be working on my new album next year, and it's going to be huge - I can't wait. I'm also going to be hosting a show all about fashion,food and all that good stuff,and that should be starting up the end of this year or the start of next year. That's basically it.Then I go on my next trip this month for more shows.
Now for the big question: Is there any love interest right now for you?
Well I am just dating around right now, meeting new people and just having fun.
Most Recent Comment(s):