Wednesday - March 09, 2011
By
.(JavaScript must be enabled to view this email address)

Movies Showtimes
Share

Shawn Pimental
Award-Winning Music Producer/Artist
With whom did you see the movie?
My wife Tehani at the Koolau Stadium 10.
Overall, what did you think?
There were moments that were entertaining and action-packed, but it didn't keep my attention. The director, Patrick Lussier, is known for directing horror flicks like My Bloody Valentine and Dracula 2000, so it had its share of blood and gore, kind of Quentin Tarantino-ish.
On a scale of one to four stars, how would you rate this film?
★★, just because they did a better job with Nicolas Cage's hair plugs.
Was the message/theme of the film clear?
The message was quite simple being that it was an action film, but it wasn't very thought-provoking. It was basically a father who was hunting down his daughter's killer but was being hunted at the same time.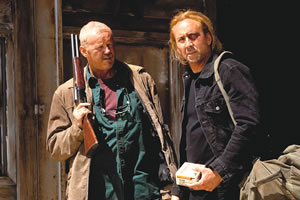 Did you identify with any of the characters?
Everybody in this movie is pretty crazy, so I would say yes to that.
How would you describe the cinematography?
The 3-D aspect was the best part of the movie! The 3-D shots were pretty sick. Technology has definitely improved from the days when we had the blue-and-red 3-D glasses from cereal boxes. Nothing like seeing severed body parts flying at you. There was some nudity and my wife was like "Oh, great, boobs in 3-D." Fellas, don't try to grab them ... you'll get slapped.
Would you buy this movie when it comes out on DVD?
No, I'd wait to see it on cable.
On a different note, what's new with you?
I'm still busy making music on the road and in the studio. My recording studio - Studio Ala Moana - along with my partner Mike Grande, and I have been busy with numerous projects. Check out some of our releases from Na Leo and Kainani Kahaunaele, and soon-to-be-released artists: Lehua Kalima of Na Leo; Yoza; Kaumaka'iwa Kanaka'ole and Kekuhi Kanahele; Tahiti Rey; Johnna Padeken; Keao Costa of Na Palapalai; Three Plus; Grammy-nominated Chino Montero and many others. Visit our Facebook page (search: Studio Ala Moana) for more information.
Most Recent Comment(s):