Wednesday - November 17, 2010
By
.(JavaScript must be enabled to view this email address)

Movies Showtimes
Share

Rodney Villanueva
Comedian and Emcee
Overall, what did you think of the movie?
It had a lot of surprise moments. Things happened you really did least expect, like in the beginning scenes with the car door. If you were sleeping at the beginning you definitely woke up. I love slapstick; there were a lot of slapstick moments. Some parts were pretty gross, like when he got beat up in the bathroom. To see one guy in a wheelchair beat up a guy with two legs and who could run was ridiculous. I felt bad for that one guy (Robert Downey Jr.), he kept getting beat up throughout the whole movie, and the other guy (Zach Galifianakis) had nothing happen to him until the end.
Could you compare this comedy to any others that you've enjoyed in the past?
This one was totally different because it had a mixed plate of slapstick, of dry humor. It is hard to compare because most of the time comedies go in one direction, but this one had a mixed plate of everything. The writers really used their noggins on this one, because there were some scenes where you sat back and said, 'Oh I never would've seen that coming.' Maybe a little comparison to Dumb and Dumber.
From a comedian's standpoint, what made this film so entertaining?
I guess because they are just like me, because when they say stuff they just smile, there is no laughing. Basically I don't laugh at my own stuff and I keep talking, but they had the same features.
Without giving away the ending, what was one of your favorite scenes?
Oh, to make coffee out of the father's ashes that were in the coffee can - that was funny. To see that guy make coffee out of that, he must have been blind in one eye because you know those are not coffee grinds. And, the back-of-the-truck scene, the way he held onto the dog, just kept hanging onto that dog the whole time. I was laughing after that fact about a lot of the scenes.
On a scale of one to four stars, how would you rate this movie?
★★★ 1/2, the half being for all the lewd gestures and gross parts.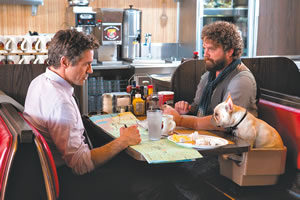 To whom would you recommend this movie?
Definitely anyone 21 and older. I don't think it's for kids because there are some scenes that were edgy, but went a little overboard. Unless you go tell junior to go buy some popcorn with extra butter. You have to be able to laugh. This is not a boring movie at all.
Was the movie as good as the previews?
It kept you on your toes; you had to watch the whole movie. There was no way you could fall asleep in this movie. It was hilarious from the start to the finish.
What about the acting? Did anyone stand out?
Both of them did (Downey Jr. and Galifianakis), because they did the humor without cracking a smile. There must have been about 2,000 outtakes, I can guarantee that. There is no way they could have done some of those scenes on the first or second take.
On a different note, what's new with you?
I am still emceeing like crazy, I just opened up a new T-shirt company called Celebrahtee T-shirts, just putting my comedy on a shirt. Still doing the comedy thing - 2011 should be a huge year, I am already booked solid for weddings. I will be hosting my first golf tournament too, benefitting Habitat for Humanity, which is important to me, especially for the people of the west side.
Most Recent Comment(s):