Wednesday - April 22, 2009
By Kerry Miller

Movies Showtimes
Share
Amanda Lagoy
Education Coordinator for the Honolulu Zoo
as told to Kerry Miller
Where and with whom did you see the movie?
I saw it with a colleague, Monica Szczupider, at Ward.
Overall, what did you think?
We both thought it was amazing.The cinematography was outstanding.We were discussing it afterwards.They used a lot of superlatives, they anthropomorphized the animals. From a scientific standpoint, it is kind of looked down upon,but if you don't give human characteristics to animals, the general public can't relate to them as easily.
Describe the format of the movie. Was it a documentary ?
It was not quite a documentary so much.If you've seen the Planet Earth series on Discovery Channel,it's very similar to that.
In fact, they used some of the shots from Planet Earth; it's the same production company. It's following a polar bear and her two cubs, an elephant and her calf, and a humpback whale and her calf. It's narrated by James Earl Jones. They did a good job in the way they changed from season to season, and each of the different climates they showed, connecting it all together.
What was the story like? Did it follow the lives of a group of animals?
It follows the journey of those three families, and it also brought in other animals. It also showed different ecosystems, like the Boreal Forest, the rain forest and some of its primates.They showed parts of Africa and parts of Asia and Antarctica; they showed some penguins.They showed the mating dance of birds of paradise and how they clean their area before. It helped you understand better and relate.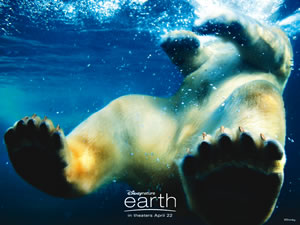 How was the movie visually?
They had beautiful shots of incredible waterfalls and under the sea looking at schools of fish. Also, they did neat shots in the Himalayas with some cranes that were trying to migrate,and the jungle shots were amazing. They had an awesome shot of a great white shark coming out of the water and catching a seal.A lot of the shots they slowed down so you could see it better, it happens so fast.
What was your favorite part?
There were two. There was one in one of the forests where they were showing the mandarin duck and its chicks.They nested in trees, one by one they would fall to the ground and bounce like rubber balls and run off to mom.
It was funny. Also, the mating dance of the birds of paradise.
On a scale of one to four stars, what would you rate this movie?
I would have to say ★★★ to ★★★★.
To whom would you recommend this movie?
Anyone who loves nature and wants to learn more about it. With kids, I have an almost 5-year-old and almost 2-year-old.There's some parts they would enjoy and some parts they would find scary. Maybe not younger kids, but grade-school ages and above.
What's new?
We have Earth Day on April 26, from 10 a.m. to 1 p.m. on the back picnic lawn at the Honolulu Zoo. There will be different displays, live amphibians for kids to come to see, crafts, games, a frog sack race. There'll be an adoption center, information on primates throughout the world, as well as bird migrations. Plus, our new classroom - inside the classroom are vacation adventures kits, which kids used to decorate little frog banks. The public can donate to the zoo by giving money to their favorite frog bank.The kid whose frog gets the most money gets a tour of the zoo's amphibian areas with their parents. Also every Friday and Saturday twilight tours of the zoo are held after hours. Call 971-7195 or visit www.honoluluzoo.org.
Most Recent Comment(s):