Wednesday - August 25, 2010
By
.(JavaScript must be enabled to view this email address)

Movies Showtimes
Share

Olena Heu
Reporter/Anchor, Wake Up 2day, KHON2 News
Where and with whom did you see the movie?
We had a girls night out. I was with six of my friends and we went to Ward Consolidated Theatres.
Overall, what did you think?
I thought it was really well done, very uplifting. It gives you a bit of perspective on happiness, life and love. A rejuvenation.
On a scale of one to four stars, what would you rate this film?
★★★ 1/2.
Without giving away the ending, what was one of your favorite scenes?
This is something relatable to women, I guess.
When Julia's character is in Italy, she is really enjoying all of the food and she starts to put on some weight. In one scene, she and her friend are out shopping for "fat" jeans and they are perfectly fine with it; they embrace it.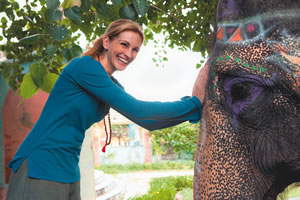 Was the message/theme clear?
Definitely, it was very clear. Obviously she goes on these trips around the world to find herself and her happiness. She goes to these destinations for all the reasons the title depicts.
Did it remind you of any other work in film?
This movie basically stood out on its own. It actually reminded me of my life and the steps I took to get me where I am today. I related it to mirroring my happiness, finding my husband and being able to share it with someone. It's about being happy with who you are.
To whom would you recommend this movie?
I'd say it is a chick flick, but I did see some men in the theater. Women of any age would enjoy it.
What about the acting? Did anyone stand out?
I found it was a typical Julia Roberts movie. They used her great smile and of course her laugh to tell the story. She stood out in one scene when she was very emotional - it was unlike anything I've seen from her. It really showed her range and ability as an actress.
Is the movie worth the ticket price?
For me and my girlfriends, the whole night was worth the money. We had dinner before the movie and really enjoyed our company, so that made it all worthwhile.
What is your favorite movie snack?
Sour Patch Kids.
On a different note, what's new with you?
Well, I just wrapped up the Gridiron Show and am looking to possibly doing another musical theatre-type show. I am going to be doing some traveling too, and am looking forward to that.
Most Recent Comment(s):